Apple is awarded a potentially industry-altering patent on touchscreens
99+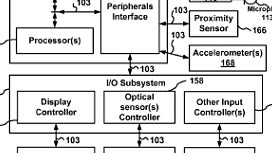 Apple filed for this touchscreen patent back in 2007. But now that it has finally been awarded, it could have sweeping effects on the wireless landscape in the U.S. The patent covers nearly every industry-standard feature of the capacitive interface, which would affect every device maker.
The patent states, most generally, that it covers
"a computer-implemented method, for use in conjunction with a portable multifunction device with a touch screen display, [that] comprises displaying a portion of page content, including a frame displaying a portion of frame content and also including other content of the page, on the touch screen display."
The patent also extends to
multi-touch gestures like pinch-to-zoom
, which have become ubiquitous among touchscreen devices. Florian Mueller of Foss Patents says that Apple could use this patent award to bully other device makers out of the U.S. market:
"This patent covers a kind of functionality without which it would be hard to build a competitive smartphone."
Experts suggest that the patent could be interpreted as only applying to the web browser. But even that would prove problematic. Unless the patent is invalidated,
Apple
could legitimately sue every smartphone and tablet maker, as well as makers of touchscreen music players. On the other hand, the volume of support against the patent could make it easier to invalidate.
source:
PCMag