Apple increases iPhone trade in value by $15 across various models
18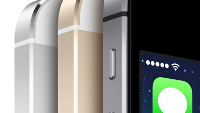 Back in 2013,
Apple launched its iPhone trade-in program
, allowing its customers to trade in their old smartphones for a certain amount of credit they can use for purchasing a new iPhone.
Today it was discovered that Apple has boosted the trade-in value of old iPhones by $15. The promotion will only last during the month of June.
If you're willing to trade in your
iPhone 4S
, Apple will now give you $50 credit, up from just $35 previously to this offer. Trading in an
iPhone 5
will grant you $100 of credit, up from $85. The
iPhone 5S
can now be traded for $200, up from $185. Please note that these values are only for smartphones in good condition with normal wear and tear. The credit values will go down if there's any significant damage. Furthermore, you'll only be able to use the credit for a new
iPhone 6
,
iPhone 6 Plus
, iPhone 5S, or iPhone 5C.
In closing, it should be mention that other trade-in programs offer a bit more money when trading in your old iPhone. For a 32GB iPhone 5S, Amazon will give you $250 worth of credit, Gazelle will top that at $299, while Apple will only give you $200.