Apple confirms iPhone trade-in plan; consumers can receive as much as $280 toward the purchase of a new iPhone
34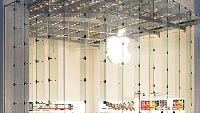 The
long rumored trade-in program for the Apple iPhone
at Apple's own retail locations has started on Friday. Apple says that the trade-in will help the environment and at the same time, customers who turn in an iPhone will receive credit toward the purchase of a new model. How much? According to Apple, the most that a person can receive is $280 depending on the model being traded in and the condition of the trade.
To receive credit toward a new Apple iPhone, the trade must be in working condition and the customer has to be under contract from a carrier. The new trade-in policy will pit Apple against other third party companies like Gazelle that have become successful marketing their own iPhone trade-in service.
This is the time, just weeks before Apple is expected to introduce the new Apple iPhone model, when current owners of Apple's iconic smartphone start to think about trading in their current iPhone for the next version. By now, these people have heard the various rumors of what new features are likely to appear in a new model, and are looking for ways to make it happen financially. The Cupertino based company is expected to introduce the next iPhones on September 10th with the unveiling of the
Apple iPhone 5S
and the budget priced
Apple iPhone 5C
. New features expected on the iPhone 5S include an improved camera sensor with a lower aperture to take better pictures under low-light conditions, a faster and more powerful A7 processor, a longer lasting battery and a possible fingerprint sensor embedded in a new sapphire home button.
Besides using the program as an incentive to those who simply want the next Apple iPhone model, Apple Store workers will suggest a trade to those facing costly repairs for their iPhone, even if that phone does turn on.
source:
WSJ