Apple iPhone saves the life of a Manchester bombing victim
32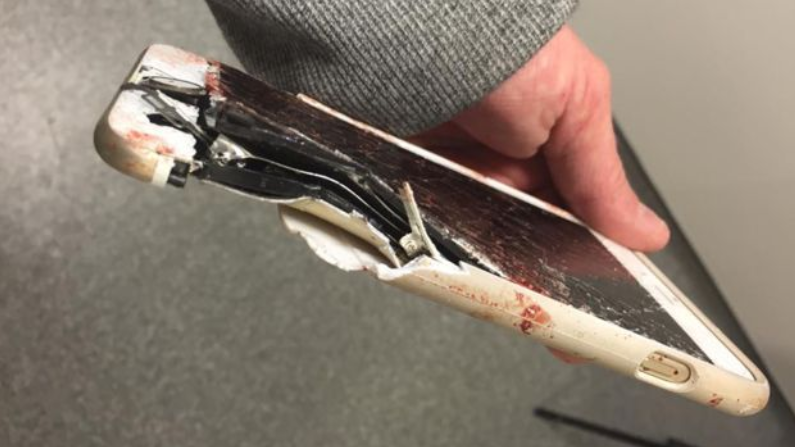 This is the iPhone that saved the life of Lisa Bridgett, who was hit by shrapnel from a bomb that went off at the end of an Ariana Grande concert last week in Manchester
The modern smartphone is an amazing piece of technology. Not only does it make and take phone calls, allow users to access all of the news of the day, and help you stay connected to friends and family, it can also save lives. Besides being able to connect to 911 quickly and give an emergency dispatcher your exact location, there is at least one other way that a handset can save you from death.
As we've detailed a few times before, a smartphone has saved a life
by acting as a protective shield
, stopping or deflecting a bullet. Just this past week, an Apple iPhone gave up its life to save its owner, Lisa Bridgett, from severe injury or death. Ms. Bridget was a victim of a suicide bomber who set off a blast at the end of an Ariana Grande concert at Manchester Arena. Bridgett was in the middle of a conversation on her iPhone when the bomb went off. A piece of shrapnel in the form of a metal nut was blasted through her middle finger, proceeded to hit her handset, traveled on to create a pathway through her cheek and was finally stopped by her nose.
As painful and serious as that all sounds, it could have been worse. Lisa's husband credits the iPhone for deflecting the path of the shrapnel and slowing it down. The bombing ended up killing 22 and injuring 64 people. Among the 22 deceased was the bomber. Police have arrested eight people believed to have been involved in the bombing.
"The fact that she was on the phone at the time probably saved her life. The nut has hit her phone which has more than likely not only diverted it, but also slowed it down considerably."-Husband of Manchester bombing victim Lisa Bridgett
source:
BGR