Apple iPhone X vs LG V30: first look
82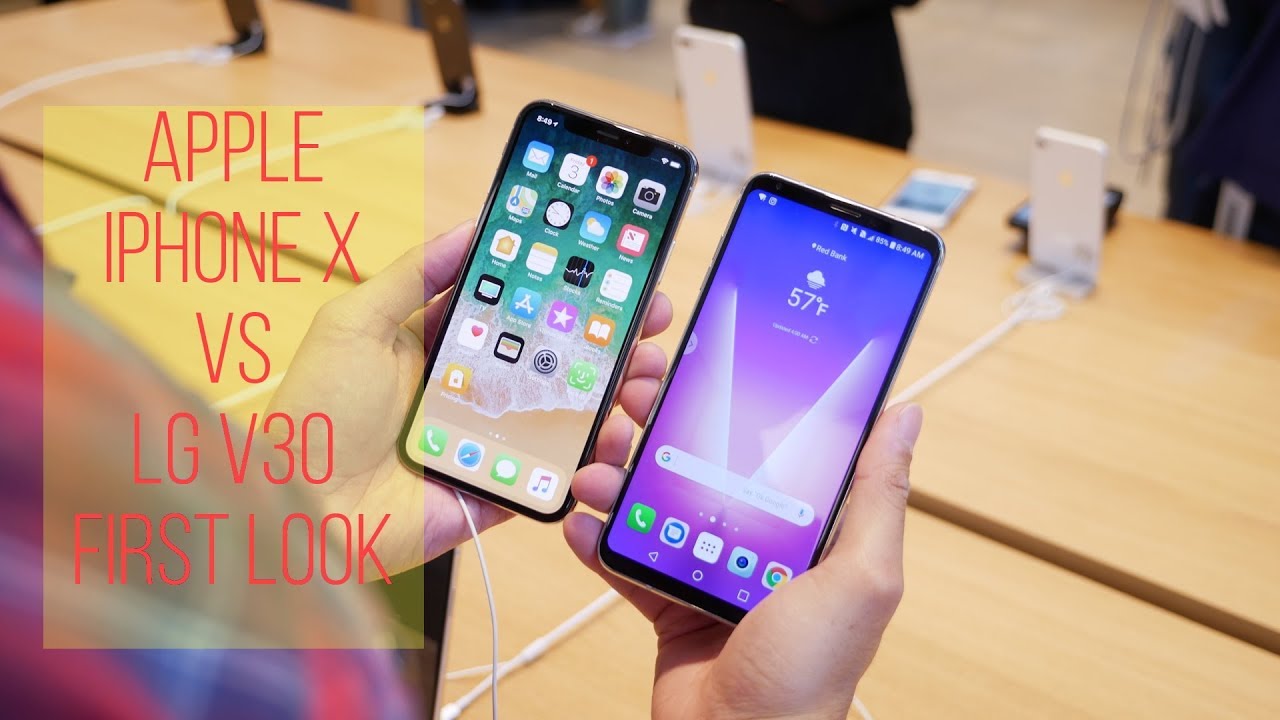 One of the biggest surprises this fall happens to be the LG V30, a refined product that has been highly praised by critics as the no-bull smartphone – offering a wealth of uncompromising features. Meanwhile, the hype surrounding Apple's latest device, the 10th anniversary iPhone X, is in full swing as buyers packed stores and shops to pick it up recently. Apple's reputation isn't necessarily on the spot, given how its iPhones are continually popular amongst consumers, but for LG, they're on the upswing after last year's sour performance, so it'll be interesting to see if the V30 can remain relevant now that the iPhone X is here.
Design
When you stack these two titans next to one another, it's apparent that there's no shortage of premium qualities with their designs. It's so blatantly rampant, as the two phones share almost the same philosophies – a metal meets glass construction. However, the stainless-steel bands of the iPhone X combined with its slightly heavier weight does give it a more substantial feel in the hand. In terms of size, the iPhone X is slightly more manageable, since it's shorter and narrower than the V30. But at the end of the day, it's clear that the two phones simply look stunning!
What we like about the V30's design over the iPhone X is that it features a slightly more water-resistant construction; an IP68 rating versus the iPhone X's IP67. Furthermore, it packs the ever-so-useful 3.5mm headphone jack and a fingerprint sensor. The latter has been omitted with the iPhone X, replaced instead by its new Face ID technology, but we still certainly appreciate this alternative form of security.
Display
Apple might've moved beyond 1080p resolution with the iPhone X, which flaunts a 5.8-inch 1125 x 2436 Super Retina Display that leverage OLED technology, but the V30 is still technically more pixel packed with its larger 6-inch 1440 x 2880 FullVision P-OLED display. Not surprisingly, they hopped on the trend of boasting that near bezel-less look with their fancy looking new displays, so they're more than equipped for all of your multimedia consumption.
Briefly comparing the two, it's tough to make enough of an assertive affirmation about which one is more superior, but we can definitely say that the viewing angles on the iPhone X's display is better. For now, we'll be reserved before making a final judgement – that's until we can fully test out the qualities of the iPhone X's new Super Retina Display. With the V30, it has already established itself as a strong contender with its strong brightness output and high contrast.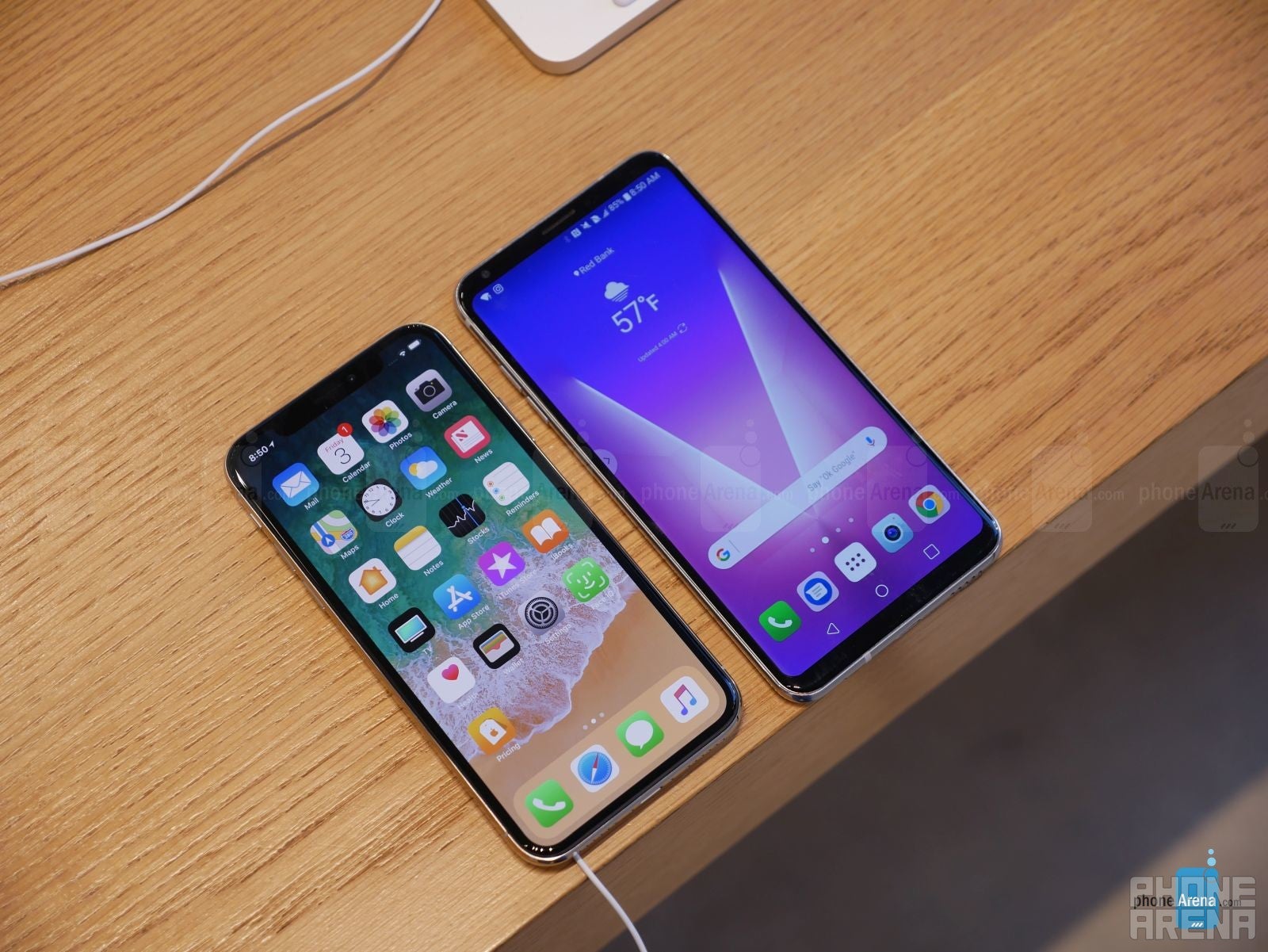 User Interface
Apple's iOS versus Google's Android, this is a battle we've seen countless times before. With LG's skin on the V30, it manages to retain a faithful experience to stock Android, but there are some useful additions thrown into the experience that enhance the experience, like its always-accessible floating bar. As for the iPhone X and its latest iOS experience, there are some new tweaks and tricks up its sleeve, like its new Animoji feature, but the core stuff continues to favor simplicity and straightforwardness.
Honestly, the two competing platforms have grown so much since their inceptions, so either can suffice for all sorts of needs. Android clearly continues to offer more customization and control by the user, but Apple's control has been lessened. That new Animoji feature with the iPhone X is intriguing, providing users with a new form of interacting through messages, but knowing how the two platforms eventually adopt ideas from each other, it shouldn't surprise us if and when a similar feature comes out for Android.
Processor and Memory
Just for specs sake, the LG V30 is powered by the Qualcomm Snapdragon 835 SoC accompanied with 4GB of RAM – whereas the iPhone X leverages Apple's new A11 Bionic with 3GB of RAM. Until we can properly put the iPhone X through our barrage of testing, we'll just mention our quick takeaways with their performances during our initial look. And with that, it's just unbelievable how snappy the iPhone X runs. We've been using the V30 for quite some time now, exhibiting the tight responses you'd expect from a high-caliber phone, but it blows us away the noticeable difference in how the iPhone X performs with simple navigation around the interface!
Both handsets start with base storage capacities of 64GB, but there's also an iPhone X with a 256GB capacity as well. That's surely nice and all, but it can't take away from the storage expansion of the V30 courtesy of its microSD card slot.
Camera
Dual-camera systems have been the trend amongst top-tiered smartphones this year, but even though these two prized smartphones offer them, their purposes are totally different. With the iPhone X and its dual 12MP cameras, it's meant to deliver those creamy looking portrait shots as your subject is surrounded by beautiful bokeh. Oppositely, though, the LG V30's combo of having a main 16MP camera and a 13MP wide-angle one, is meant more to deliver a wider capture with compositions.
The intent of each camera system is definitely on the opposite ends of the spectrum, as the iPhone X seems to be the kind of camera for those who want simplicity in capturing shots, with an attention to portraits and those blown out backgrounds. Those wishing for more control, the V30's implementation offers a rich set of tools for content creators, especially on the video side. Then again, the iPhone X is notable for offering 4K capture at 60 FPS.
Regardless, we're eager to compare the two and uncover who is going to deliver the better end result quality – both stills and videos, of course.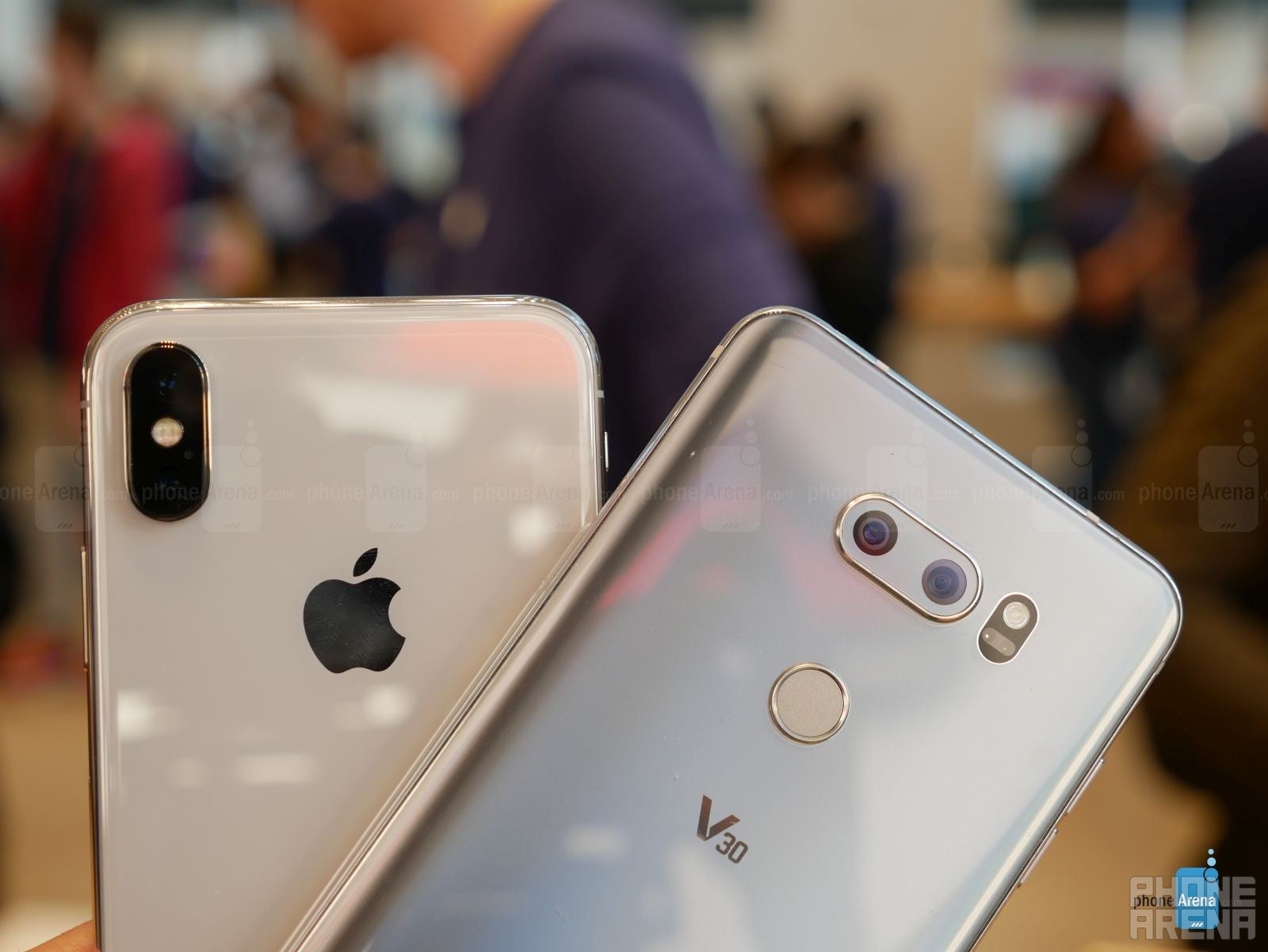 Battery
The LG V30, with its 3300 mAh battery cell, has already proven its endurance in delivering solid battery performance. It's not the longest lasting thing we've tested, but it's definitely up there still. Oppositely, though, the iPhone X's 2716 mAh battery will be scrutinized moreover not only for the fact that the capacity is a little bit underwhelming, but it makes us wonder how it'll perform with that new, higher resolution display.
Thanks in part to their glass surfaces, the two are endowed with wireless charging technologies, which is always a nice complement to find in a high-end phone.
Expectations
What makes the LG V30 so compelling is that unlike its contemporaries (iPhone X included), it's not priced so exorbitantly that it would make it unreachable to mere mortals. Although, based on the craziness and demand from consumers on launch day for the iPhone X, it seems people are willing to enter this new threshold for a smartphone.
Starting at roughly $829.99 at most retailers and carriers, the LG V30 seems like a value rich option in comparison to the $1,000 cost of the iPhone X. For the additional $130 you're required to fork over for the iPhone X, it makes us wonder how much more you're getting from Apple's latest gadget. Still, we can't stress enough how we appreciate some of the design cues found with the LG V30, like its headphone jack, in addition to how it's a great option for video content creators.
The iPhone X, on the other hand, has a lot to prove to consumers at $1,000.
Recommended Stories