Apple iPhone X allegedly explodes while updating to iOS 12.1
84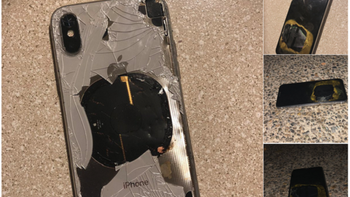 A man named Rahel Mohamad, who lives in the state of Washington, told Apple a week ago via tweet that his
iPhone X
had exploded while the device was updating to iOS 12.1. The tweet happened to
catch the eye of Gadgets 360
, and the latter was able to obtain more information about the incident. According to Mohamad, his handset was in the process of updating to iOS 12.1 last Wednesday when he plugged the phone into an outlet.
Mohammad said that "Dark grey smoke started coming from the phone. The update was completed and as soon as the phone turned on it started to smoke and caught fire." He did point out that he was using the official Apple Lightning cable and wall adapter that came out of the box with his iPhone X, and that he had stopped charging the phone just before it exploded.
Interestingly, after the Apple Support Twitter site started to respond to Rahel, another iPhone X user complained how his handset was beginning to run hot after the iOS 12.1 update. Apple asked this customer to send a Direct Message so it could talk privately to him as well.
There doesn't seem to be any wide spread complaints about similar problems users have had with the tenth anniversary iPhone and the latest public build of iOS. If you don't mind us throwing in our two cents, we would suggest that iPhone users always stick with official Apple charging accessories, otherwise you are giving Apple a reason to put the blame on you in the event that your iPhone explodes while it is plugged in.