iPhone X (2018) gets compared to iPhone 9 and X Plus in latest dummy unit images
14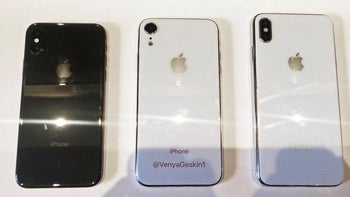 A few days back, the
first dummy units
of Apple's 6.1-inch iPhone 9 and 6.5-inch iPhone X Plus revealed the design in full. This was then followed yesterday by a
hands-on video
which compared the dummy devices. And today, adding the regular iPhone X (2018) into the mix, new images showcase dummies of each smartphone side by side.
Confirming what was already rumored, the
2018 iPhone X
sports a design that is essentially identical to the current-generation device. Furthermore, the design of the new smartphone also matches that of the larger
iPhone X Plus
, meaning each model retains the same glass build and vertical camera module on the rear while up front an OLED panel complete with a relatively large notch up top will be featured. Also, the stretched home button on the right side of the frame, and the separate volume up and down keys and Ring/Silent switch on the left side are present.
In terms of how these two designs compare with that of the budget
iPhone 9
, the 6.1-inch display allows the latter smartphone to sit perfectly in between Apple's other two offerings when it comes to overall size. Additionally, on the looks front, it's worth noting that not much really changes. In fact, from the front, the only difference will be slightly thicker bezels due to the LCD nature of the display. Furthermore, when it comes to the rear, the only noticeable change is the camera setup which now includes just one camera. However, in terms of the frame, this looks set to keep the exact same button layout.
If Apple continues with its usual launch schedule, the 6.1-inch iPhone 9 and 2018 iPhone X and X Plus will most likely be announced on or around September 11. Following this, the new iPhone X lineup is expected to begin shipping by the end of the month but, due to
production setbacks
with the LCD display, the cheaper iPhone 9 isn't expected to arrive on shelves until mid-October.