Apple iPhone 8/8 Plus sales lag behind the iPhone 6s/6s Plus during their respective launch quarters
41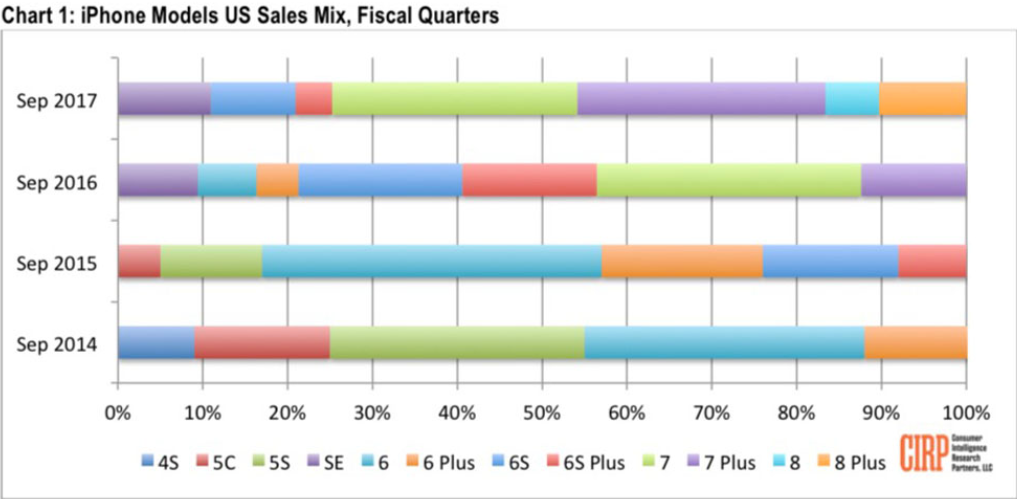 Apple iPhone 6s/6s Plus had a more successful first quarter of life than the Apple iPhone 8/8 Plus achieved
Just a week ago, we told you that
a survey conducted by KeyBanc Capital Markets
revealed that the 2016
Apple iPhone 7
was outselling the brand new
Apple iPhone 8
. So while we have had a week to digest that, we can tell you that Consumer Intelligence Research Partners has released data showing that 2015's
Apple iPhone 6s
and
iPhone 6s Plus
outsold the Apple iPhone 8 and
iPhone 8 Plus
during each model's "launch quarter." That includes the three month period during which each phone was launched. The survey was conducted among 500 consumers who have purchased an Apple device. That number is considered to be the minimum amount of participants in a legitimate survey.
According to the CIRP, the Apple iPhone 8/8 Plus accounted for 16% of all iPhone sales during the fiscal quarter ended October 1st. The iPhone 8 made up 6% of these sales in the period, while the iPhone 8 Plus accounted for 10%. Compare that to the 24% achieved by the Apple iPhone 6s/6s Plus during its first fiscal quarter of life back in 2015, and you can see how the latest iPhone models are underperforming sales-wise. Last year, during the same time period, the
Apple iPhone 7
and
iPhone 7 Plus
accounted for 43% of total iPhone sales in the period. In 2014, the
Apple iPhone 6
and
iPhone 6 Plus
represented 46% of all iPhone models rung up during its launch quarter.
It seems obvious that many potential iPhone 8 and iPhone 8 Plus buyers have deferred purchasing the phone until after the November 3rd launch of the
Apple iPhone X
. Besides testing the premium model to see if they like it better, consumers will have to consider how long they want to wait for a new iPhone. If delivery times for the tenth anniversary model are outrageously long, prospective iPhone buyers might decide to go after the iPhone 8 instead.
Unlike the Apple iPhone 8 and iPhone 8 Plus, the Apple iPhone X features an OLED display, an edge-to-edge screen, the TrueDepth Camera, Face ID, and a larger battery. A survey conducted by securities firm Bernstein shows that 48% of the 1,112 iPhone owners in the U.S., U.K. and China are excited about the iPhone X. While not all of those excited about the device will end up buying the premium model, only 3% of those responding said that their next handset will not be an iPhone.
Reuters
via
9to5Mac