Apple iPhone 7 photo leak shows edge to edge screen, but is most likely faked
18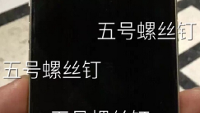 If a picture alleged to show the front of the
Apple iPhone 7
is possibly faked, why even bring it up at all? Because there is still a chance that the picture is a legitimate photo of the next full-sized iPhone. And if it is real, it would appear that the screen on the Apple iPhone 7 will feature an edge-to-edge display.
While this is the first leak showing what is supposedly the front of the iPhone 7, there are some indications that the image has been photoshopped, or has been altered. The top and bottom bezels are heavily pixelated, and the line separating the screen from the bottom bezel is not straight like it should be if the picture were legit.
On the other hand, if all of these artifacts are due to the picture being a low-res image, then there would be a chance that this is a real photo of the next iteration of the iPhone. As a result, we are passing it along to you.
According to connected Apple analyst Ming-Chi Kuo of KGI Securities,
the next big redesign of the iPhone will take place in 2017
. That year, we could see the iPhone sport an AMOLED screen and a rear cover made of glass, which harkens back to the
Apple iPhone 4
. The "Plus" version of the iPhone that year could carry a 5.8-inch screen.
We still expect to see some changes later this year with the iPhone 7, such as the removal of the earphone jack which could leave more room inside for a larger battery. The A10 chipset will power the phone and there could be a dual camera setup on the back. One hoped for change
which apparently has been scrubbed
, would have added a waterproof design to the iPhone 7.
Check out the leaked image of what is alleged to be the iPhone 7, and the reasons why it appears to be fake, by clicking on the slideshow below.
source:
9to5Mac
Recommended Stories