Apple iPhone 6 suffers from flesh eating disease after it comes in contact with gallium
40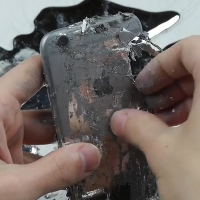 Time for a science lesson. Gallium is a chemical element with the atomic number of 31. It is a man made material that is used in electronics, although it does attack other metals like aluminum. Thus, if you were to pour 500 grams of gallium over the aluminum back of an
Apple iPhone 6
and let it seep in overnight, you might not recognize the device by the next morning.
That is exactly what is being done to the
iPhone 6
in the video below. The back of the phone was scraped up in order to allow the gallium to seep into the device, and the ports and connectors were taped to give the handset a fighting chance to work when turned on in the morning.
When the next day came, the device barely resembled an iPhone although at first it still worked. But the gallium made the body of the handset so brittle, that pieces of the phone were falling away leaving the components showing.
By the time the video comes to an end, it is hard to imagine that the smoldering, bubbling mess that you are looking at was once an Apple iPhone 6. By the way, do we have to remind you not to try this at home?
source:
TechRax
via
RedmondPie