Apple iPhone 6 explodes in India; owner escapes injury
71
The owner of an
Apple iPhone 6
in Gurgaon escaped injury when his two-day old handset exploded. Luckily for Kishan Yadav, he was using the speakerphone and was not injured. According to Indian media, it was the first known explosion of an iPhone in the country since the latest models were launched last October.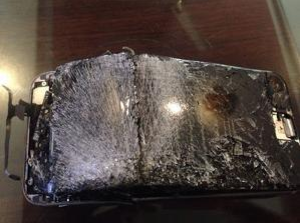 Apple iPhone 6 turns into a hand granade
Yadav purchased the iPhone 6 last Thursday, paying the equivalent of $943 USD for a 64GB unit in gray. He happened to be in his car, talking to a friend he was driving to meet, when he noticed sparks coming out of the handset. When Yadav noticed that his iPhone 6 was getting incredibly hot, he tossed it out the window. Like a hand grenade, the device exploded as soon as it came in contact with the ground.
After his iPhone 6 cooled down, Yadav took it back to the store that he bought it from and was told to take it to the Apple service center. There, he was told that the service center would not register his complaint. Instead, the center said that it would hold the burnt remnants of the iPhone 6 and get back to its owner with an update from Apple. Yadav was so upset that he filed a report with the police.
All we know at this point is that Mr. Yadav is out a phone, which certainly should have been covered by the original warranty. If anything new develops here, we will pass it on to you.
source:
TimesofIndia
Recommended Stories