Apple iPhone 6 dummy invades all media, now it stars in a new video
43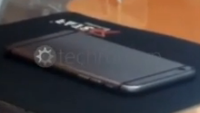 We weren't kidding before when we compared the
Apple iPhone 6
dummy to the ubiquitous
Apple iPhone 5c
plastic colored casing that leaked constantly last year. Now, a video just posted to YouTube on Sunday, reveals the
Apple iPhone 6
dummy as it lies next to an
Apple iPhone 5s
. Nothing has changed
with the comparison that we just talked about earlier today
, but now you can see it in motion instead of staring at a static photograph. We should point out that the clip comes out of Vietnam.
It seems like decades ago when the OG
Apple iPhone
launched with its 3.5 inch glass. At the time, it was considered a "generous" sized screen. Apple kept the same screen size even when Android models started passing the 4 inch bar. At Cupertino, the thought was that
a 3.5 inch screen was perfect for one-handed use
, giving the thumb coverage over most of the screen.
Finally, the
Apple iPhone 5
took the screen on the device to 4 inches. But it obviously was not enough to satisfy everyone. Top-shelf Android handsets now exceed 5 inches regularly. To take on those Android, and even Windows Phone behemoths, the next iteration of the iPhone is supposedly taking the screen size to 4.7 inches. And we could then see a 5.5 inch screen on an Apple iPhone phablet. We wonder if Apple co-founder Steve Jobs is spinning in his grave, as he was a strong proponent of the 3.5 inch screen.
source:
Techrum.vn