Apple iPhone 6: all the new features
75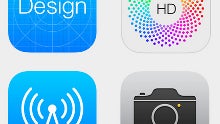 Apple took to the stage just a little while ago, hosting a special event to announce the biggest changes to its mobile devices franchise since the introduction of the first iPad. Not only did we have new entries in the iPhone franchise announced, and bold ones at that, like the iPhone 6, but Apple is also venturing into a brand new market niche for the first time - that of smart wearables.
We knew that Apple has placed a big emphasis on this event when it rented a larger-than-usual venue for the keynote - rather than holding it in the Yerba Buena Center for Arts in San Francisco, it picked the larger hall of Flint Center in its home town of Cupertino. The Flint Center is an iconic location for Apple: it's the place where the company unveiled the iconic Macintosh 30 years ago in 1984, and that's also where the colorful iMac started Apple's revival in 1998.
This back-to-the-innovation-roots keynote yielded the long-awaited iPhone 6, whose screen diagonal marks the largest iPhone display increase in history - from 4" to a 4.7" model - but also a variety of brand new additions to the Apple's handset line functionality. Let's summarize all the new features of the freshly-minted
iPhone 6
.