iPhone 5s vs iPhone 5c? 80% of users would prefer the 5s
40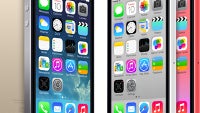 Here's a sweet little survey we did: last week,
we published a poll
asking you whether you prefer the cold and hard metal of the iPhone 5s, or the warm and inviting plastic of the iPhone 5c. Somewhat unsurprisingly, though, it appears that most users would go for Apple's new top model.
According to the results we got, the iPhone 5s is the preferred handset for 80% (2493 votes) of the users who have voted in our poll, while only 20% (623 votes) have picked the 5c. Of course, this is anything but shocking, as besides its way better construction quality, the iPhone 5s also sports a bunch of cool new features, such as a better 8 MP camera, 64-bit A7 processor, and the Touch ID fingerprint sensor that can be used for device unlocking and iTunes payment authorization. All of this has obviously tipped the scales in favor of the 5s.
One thing that should be considered, though, is that our poll didn't really factor in the lower price of the 5c. True, the price difference between the 5s and the 5c isn't really that big ($199 vs $99 on contract), but we guess that it will cause some users to side with Apple's new mid-ranger. having in mind that Apple seems willing to market the 5c more heavily, we should definitely expect new iPhone purchases to be more than 20% for the 5c, but exactly how much more we can't really tell just yet.