Apple iPhone 5S and 5C set new LTE record: US carrier versions sport up to 13 global bands
10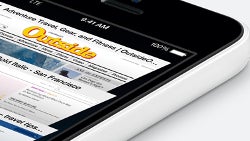 Apple's mention that the
iPhone 5C
supports most LTE bands of all smartphones during the keynote address really piqued our interest, as global LTE devices have been a pipe dream so far, with all the competing bands and frequencies. We know
Qualcomm was working on a multiband LTE modem
, and probably its variations are what is present on the iPhone 5C and the
iPhone 5S
, judging from the vast carrier support table Apple just put up.
So far the octaband LTE king has been the
Sony Xperia Z Ultra
, but it turns out that there will be four model numbers for each of the newly-announced 5S and 5C, depending on the region they will be sold at, with 7-13 LTE bands support each. The most bands are supported by the model that will be sold on Sprint and the Japanese carriers SoftBank and KDDI, so if you pick that one unlocked, there is a good chance it will work on most LTE networks worldwide.
Apple actually promises that "
unlocked iPhone 5C, iPhone 5S and iPhone 5 models may support LTE networks outside the country of purchase when using a valid SIM from a supported carrier
," so Sprint iPhone users are in luck, but the 11-band 5S and 5C models on AT&T, Verizon and T-Mobile are not far behind either, ensuring LTE coverage in Europe and Australia, for instance.
source:
Apple