Apple iPhone 5 torn down: easy to repair, A6 chip and internals exposed
29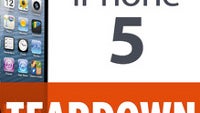 The
Apple iPhone 5
is here and it's about time it got torn down by the crafty gadget surgeons from iFixit. Unlike previous iPhones, the sixth-generation iPhone is easier to repair with the screen being the first thing that easily detaches from the device, but there is much more to discover on the inside.
First, though, let's make it clear - the goal of this teardown is to find out just
how easy it is to repair the new iPhone
and is it any easier than the task was for the iPhone 4S. The most common thing that breaks in iPhones is the screen, and luckily replacing the screen on the new iPhone should only take 5 to 10 minutes, and not the whopping 40+ minutes as was the case with the 4S. Also, having an aluminum for the back instead of glass means less shattered glass and less repairs. Great news.
Next, you'd see in the teardown that it would have been simply impossible to make the iPhone 5 as it is with the big and bulky 30-pin connector of the 4S. That's why Apple went with Lightning.
Geeks will be also happy to see the A6 chip and the Qualcomm MDM9615M chip bringing you 4G LTE.
Overall, the iPhone scored a pretty respectable 7 out of 10 for repairability. For the full iPhone geek porn, check out the teardown below.
source:
iFixit