Apple iPhone 5 release date to be September 21st?
39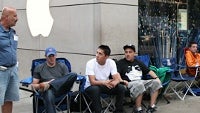 Verizon Wireless has blacked out vacations for all of its staff from September 21st until September 30th, and it doesn't take a genius to guess that this means the new
Apple iPhone should come on September 21st
.
With the official announcement widely believed to be scheduled for September 12th, a release of the new iPhone some 9 days later falls in line with Apple's previous history with iPhone launches. Starting with the original iPhone and all the way until the iPhone 4, Cupertino has kept the gap between official announcement and general availability in the States between 9 and 12 days. With Tim Cook, the former Apple logistics chief now heading the company, it's no wonder Apple is now sticking to 9 days.
And here is how this year's sixth-generation iPhone release schedule looks like:
Announcement: Wednesday, September 12th
Pre-orders: Wednesday, September 12th
Launch date: Friday, September 21st
Are you getting the new iPhone and what do you expect of it? Let us know in the comments below.
source:
TechCrunch