Apple iPad mini to be Wi-Fi only; refresh coming for current iPad
23
Sources for U.K. paper
The Guardian
are telling the publication that Apple will soon be introducing the 7.85 inch
Apple iPad mini
, which is confirmed from some U.K. retailers saying that they expect the smaller-sized iPad to hit stores in November. While Apple has yet to confirm that such a device exists, it has always been assumed that the Apple iPad mini was created to go up against the devices in the new 7 inch low price tablet category that was created with last November's launch of the
Amazon Kindle Fire
. Amazon initially sold the unit for $199 and recently was challenged by the $199 8GB version of the 7 inch
Google Nexus 7
. Amazon now has a low price Kindle Fire 2 for $159 and a better spec'd
Amazon Kindle Fire HD
priced at $199. For its part, a
$99 Google Nexus 7 is expected this December
.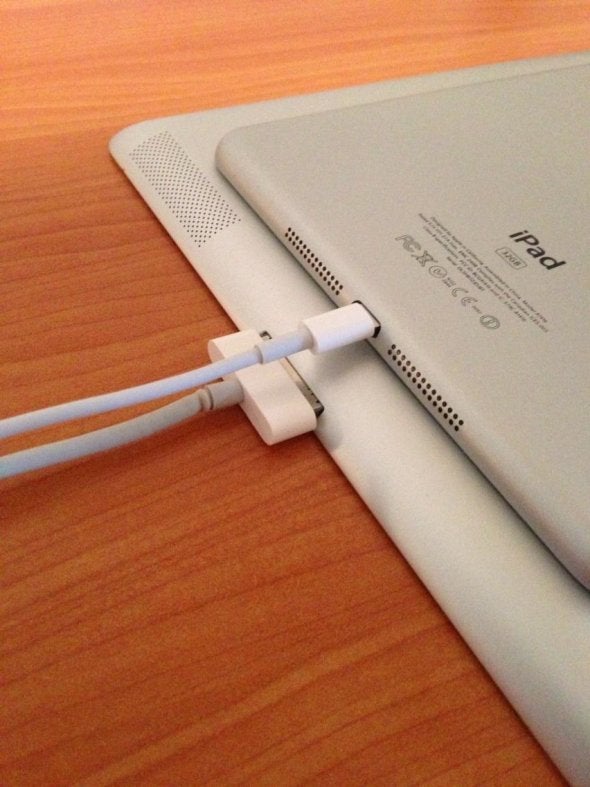 The new lightning connector on top with the older cable on the bottom
Among that pile up, the Apple iPad mini is expected to come to market with its 7.85 inch screen and quite possibly a price tag in the $250 region. To keep production costs low, those inside the industry say that Apple is supposedly keeping the iPad mini as a Wi-Fi only device and will keep 3G/4G connectivity for the higher priced full-size Apple iPad model. While there is talk that the invitations for the event that will out the Apple iPad mini
will go out on Wednesday
, there also is speculation that one of the factories assembling the tablet had to take a break due to a
last minute design change
.
The
Guardian
also has some inside information on
a refresh
for the
third generation of the Apple iPad
. Sources say that the tablet will be revised to support U.K. 4G through Everything Everywhere's 1800MHz network – and from next September with Three. Additionally, the refreshed version of the third generation iPad will have a dock on the bottom for the smaller digital lightning cable instead of the 30 pin cable and dock that had been used on Apple's mobile devices since the OG
Apple iPhone
. There is no word on whether the refresh will be only for units headed to the U.K. for sale.
source:
TheGuardian
via
RedmondPie