Apple iPad mini mass production kicks off in China factories
10
Just a couple of days ago we heard whispers that Apple has kicked off mass production of a
tablet smaller than the iPad in Brazil
. The device widely referred to as the
iPad mini is now said to have hit the production lines
at Apple's biggest manufacturing partners in China, according to the Wall Street Journal. Note that this is still a rumor, but coming from the WSJ with its suspiciously impeccable rumor track record, it's as close to an official announcement as it gets for Apple.
The iPad mini is once again iterated to feature a 7.85-inch LCD display with a resolution matching the one on the first and second-gen iPad, but less than the extremely detailed new iPad.
Actually releasing the iPad mini means that the company is reacting to affordable 7-inch tablets on Android such as the Nexus 7 and the Amazon Kindle Fire, the latter of which turned out to be the biggest rival to the iPad.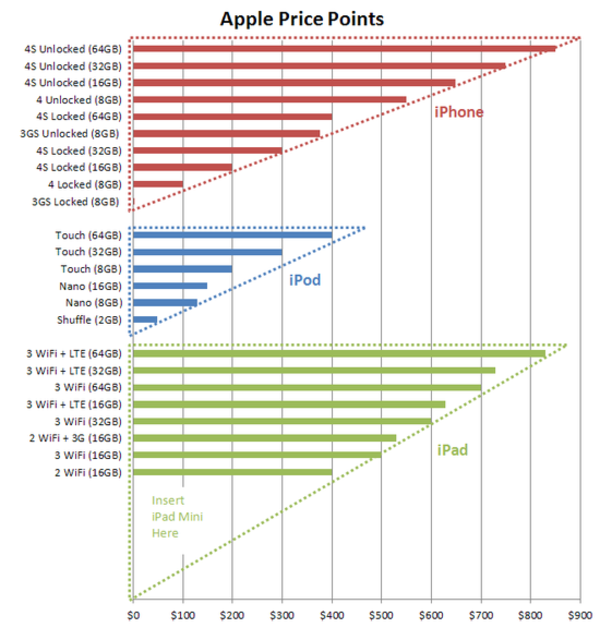 Graph courtesy of iAmConcise
Still, the Fire and the iPad are a mismatch. The iPad sells lots more and is in a different category with its bigger, 9.7-inch screen.
If you're not perfectly convinced about the logic of having a smaller iPad, we should remind you that
there is a clear financial opening
in Apple's lineup that allows Cupertino to claim almost the same high margins for an iPad mini. Also, such an affordable tablet bearing the coveted Apple logo might prevent users from considering a tablet from Microsoft and would thus cement Apple's positions.
Luckily, Apple can also use its 250,000+ apps for tablet on the App Store, a precious asset Android still doesn't have. Are you getting the iPad mini? It seems like it might be the perfect Christmas gift.
source:
Wall Street Journal