Here is the clear financial reason for Apple to launch an iPad mini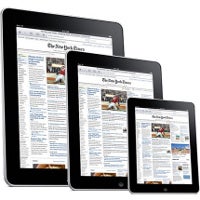 Here is an interesting observation about the possibility of Apple launching an iPad mini - there is clear financial logic to do so. On an earlier conference call, Apple's head Tim Cook said that
"one thing we'll make sure is that we don't leave a price umbrella for people".
An
"umbrella"
is a price segment of the market where the company doesn't compete. Right now it's obvious that Apple is not really playing in cheap tablets - ones priced from $199 to just around $400 where it offers the previous generation iPad.
Interestingly, in the past with its iPod and iPhone, Apple has used different strategies to fit all price levels. For the iPhone, it just kept on
discounting older models
and keeps on selling a 2-year old iPhone - currently, the iPhone 3GS. This is not how it handles iPad though. For the new tablet, the company is only selling two models - the current one and the previous generation, but not a third one, the original iPad.
This is what points our look to its strategy with iPod. With the iPod Apple started offering
cheaper new models
to fill in the price
"umbrella."
Cupertino started offering the iPod Shuffle and iPod nano for different customers and price points.
Selling the iPad is not about subsidies, so this option is left out of the table. Finally, this gives one more spin on why Apple could sell a smaller and cheaper iPad soon. Will it do it? It's Apple, so you never know, but that's the fun part of it, isn't it?
source:
iAmConcise