Apple iPad Q3 shipments stay level, but market share gives way to Samsung
22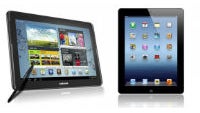 We just saw the numbers for smartphone shipments from
ABI Research
, which showed Apple holding steady while Android and Windows Phone grew, and BlackBerry shrank. Now, we're getting the tablet shipment market share data from IDC, which shows that Apple's iPad held steady on shipment numbers, but that meant a big drop in market share as Android keeps pushing forward.
Overall, the worldwide tablet shipments grew to 47.6 million units in Q3 of 2013, which is a 36.7% increase from Q3 of 2012. Apple's iPad is still the leader at 14.1 million units shipped and 29.6% market share, but that marks a big drop year-on-year. In Q3 2012, Apple had virtually the same shipments at 14 million, but that was good enough for 40.2% market share.
The big difference this year is the growth of Android tablets. Samsung more than doubled its tablet shipments from 4.3 million in Q3 last year to 9.7 million in Q3 this year, which was good enough to capture 20.4% of shipments in the quarter. But, that wasn't even the biggest manufacturer growth year-on-year. Lenovo made a huge jump from just 400,000 shipments in Q3 2012 to 2.3 million this past quarter; and Acer jumped from 300,000 to 1.2 million shipments year-on-year.
Apple's share keeps dropping and Android continues to gain steam in the tablet market. We'll have to see, but this may be the last year that Tim Cook will be able to call an "
iPad Christmas
".