Apple iPad Pro to ship next year with silver nanowire touch panel, sapphire glass?
37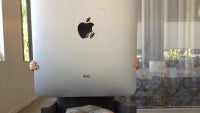 The iPad front has been relatively quiet since the iPad Air 2 and iPad Mini 3 launched to a warm reception and a sluggish tablet market. The eventual iPad Pro, however, has been shaping itself into a handsome news topic, as evidence of its existence has been getting
more and more substantial
. Today, we get to learn that that Apple has been talking to its display suppliers — LG, JDI, and Samsung among others — about mass-producing AgNW-coated touch panels for the iPad Pro's display. AgNW stands for silver nano wire, a material for creating transparent conductive layers from single crystals of silver nano wires.
The technology is supposed to succeed the industry-standard indium tin oxide coating, offering better sensitivity and compatibility with the flexible displays that are poised to take over the future. AgNW readily allows for multiple pressure sensitivity levels too, which must jibe well with Apple's Force Touch exploits. After embedding the technology in the Apple Watch, and the new Macbook's touch pad, the iPhone and iPad could very well become
its next frontiers
.
Moreover, AgNW will allow for decreased production costs and better profit margins for manufacturers, as the technology doesn't utilise indium, which is a rare metal that's going extinct. It is estimated that there are only 12 years of natural indium supplies left, which means the LCD display manufacturing industry (which uses indium tin oxide for LCD screens' transparent electrodes, and is the world's largest ITO consumer) is in need of an alternative. Unless OLED completely takes over LCD, that alternative seems to be silver.
Silver, however, won't be the only special material gracing the iPad Pro's rumored 12-inch display. Reportedly, Apple still hasn't given up on sapphire glass, despite last year's million-dollar production fiasco, and is looking into adorning the iPad Pro with a sapphire panel. We'll have to see how that works out, as well as whether the gargantuan tablet will be the first product to ship with a silver nano wire screen. As Apple is a top customer to display suppliers, it is entitled to the latest and greatest technology on disposal before smaller competitors can get their hands on it, so this prediction has a perfectly good chance to come true.
The industry sources spinning the whole AnGW rumor web say the iPad Pro will be announced next year, which makes a holiday iPad-related keynote an unlikely event. But we will get new iPhones this year, which is always something to look up to!
via
G For Games