Apple iPad PowerVR GPU vs Intel's HD4000: new benchmarks compare both
25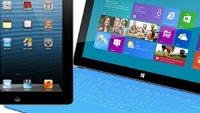 The iPhone brought the mobile revolution and Apple has continued its laser-focus on it with the iPad. Both devices are performing extremely well in the graphics department, and we've long been wondering whether one could replace a notebook with an iPad. Sure, for simple computing tasks it seems that question is solved by now, but what about games and other graphically demanding content?
Up until now we couldn't measure the exact difference between the iPad's A6X chip with PowerVR SGX554MP4 graphics running on the mobile iOS and a full-blown Core architecture on a tablet like the Surface Pro with a Core i3-3317U chip with HD 4000 graphics on a 64-bit Windows 8.
That changes now with the release of GLBenchmark 2.7 and DXBenchmark. The two benchmarking apps by Kishonti can now share performance information. It's not exactly an apples to apples comparison - DXBenchmark relies on Microsoft's DirectX API while GLBenchmark takes information from the Open GL ES.
The new benchmark that puts graphics to a real stress test is the T-Rex one with a tyrannosaur chasing a girl on a dirt bike.
The results are the juicy part as the iPad 4 is only two times less potent than the competing Surface Pro in terms of fill rate. In geometry performance the gap widens to 2.5 times.
When it comes to scenes rendering, things have really moved up quite fast with the Egypt HD scene from GLBenchmark 2.5 yielding results of 20fps at best at its launch. Now, we have 40 frames per second results, but the new T-Rex tests moves things back to start, and those same new architectures can barely put 15fps.
Here is when we see the big difference - Intel's HD4000 delivers three times better frame rate.
We however should not forget the difference in power output. While the PowerVR SGX544MP4 is clearly a mobile chip consuming just about 5 watts, Ivy Bridge on the Surface Pro hits 17W.
As both ARM and Intel are fiercely trying to either boost performance (ARM) or lower power consumption (Intel), it's really a question of who does it first to grab the crown in mobile.
source:
Anand Tech