Apple iPad 2 vs Honeycomb tablets vs webOS HP TouchPad: fight!
99+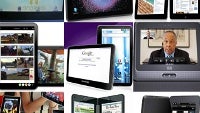 The battle of the heavyweights hasofficially been staged – the Apple iPad 2 is the successor to theoriginal iPad, which dominated the tablet segment in the last year,but the new contenders appear with an equally mighty dual-core muscleand tailor-made Android Honeycomb not breaking a sweat under itspower.
The iPad 2 comes with a lot of swagger– Cupertino is saying that with it the company aims to retain anearly 80% market share in 2011. Honeycomb on the other sidecomes in a variety of tablets like the already released Motorola XOOMand the upcoming Samsung Galaxy Tab 10.1. But it's not the only onewho wants a piece of the tablet pie as the webOS-based HP TouchPad isexpected to make an appearance in the Summer months.
We shouldn't omit the rest of thetablets out there, but it seems that most of them fall in a slightlydifferent category by either having a smaller screen or not havingthe type of carrier support these heavyweight will get. That – ofcourse – doesn't make them less of a capable rival to the iPad, butfor the time being let's focus on the biggest ones and see who winsin the first round where we clash the specs!