Apple iPad 2 Benchmark Comparison
24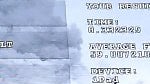 Always the hot topic of any conversation regarding any new product release, in the world of consumer electronics, it's only expected to find successive devices to pack upgraded hardware over their predecessors. Obviously, that's indeed what we're presented with the Apple iPad 2 since it packs a highly touted
1GHz dual-core Apple A5 processor
. Despite not being the first tablet in the market to come packing with a dual-core chipset, it'll nonetheless be the center of attention for most gadget hounds since it represents the latest and greatest out there in the market.
In yet another comparison to see how it stacks against some of its contemporary rivals, we pit the iPad 2 against its older siblings found with the iPhone 4 and original iPad. First and foremost, we ran the
Linpack Benchmark app
which basically performs some basic vector and matrix operations that reports the results in millions of floating point operations per second. Astonishingly, we started the test on all three devices and watched in awe at how more quickly the iPad 2 is able to complete the test. In fact, it finished calculating a single run in just 0.03 seconds – which demolishes the 0.1 and 0.17 seconds of the original iPad and iPhone 4. Furthermore, the results for the iPad 2 places it at averaging 168.90 Mflops/s, while the iPhone 4 tallies in at 33.35 Mflops/s and original iPad at 44.06 Mflops/s.
Secondly, we used the
3D Benchmark app
to test the 3D power of all three devices. With the first wave of results, the numbers tell the honest truth in how much better the iPad 2 is in running 3D titles. Although it might not be the most intensive 3D benchmark out there, the iPad 2 propels at the speedy average rate of 59.8 frames per second – which is still better than the 53.9 fps and 51.3 fps put up by the iPad and iPhone 4 respectively.
For our last test, we relied on the
CometBench app
that shows a traveling comet entering our system and really crunches down to test the performance of the devices by giving us the ability to place additional comets into the mix. With no comets around, we see average scores of 60 fps, 53.9 fps, and 59.7 fps put up by the iPad 2, iPad, and iPhone 4. However, after we increased the amount to 10 comets on-screen simultaneously, the results are pretty substantial. Specifically, the iPad 2 shines brightly at an average speed of 60 fps – which is remarkably better than the 53.1 fps and 23.2 fps pumped out by the iPad and iPhone 4.
So what can we conclude from this quick comparison? Well, it's no denying that Apple's A5 dual-core processor is one amazingly fast thing that separates itself from its older siblings. Ceck out the video to see it in action!