Apple iCloud hacker releases more nude pictures of celebrities
86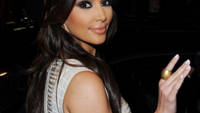 Just when all of those celebrities thought that the worst of the recent iCloud hacking scandal was over, a new batch of naughty pictures were uploaded to 4Chan and Reddit this weekend, where they were quickly removed. Hunger Games star
Jennifer Lawrence
, who seemed to become the poster girl for the original batch of photos, was said to be included in the new group of pictures.
Other names mentioned included Kayne West's better half, Kim Kardashian, and Disney star Vanessa Hudgens. Television star Kaley Cuoco of the
Big Bang Theory
was also the subject of at least one of the pictures, according to reports. The FBI is already investigating the first set of leaked photos. Model Joy Corrigan has announced that she is going to sue Apple after her iCloud account was allegedly hacked twice. Apple apparently told her that she was a victim of phishing and that this was not Apple's fault.
The
first set of hacked photos came to light at the beginning of the month
and some believe that a brute force attack resulted in the eventual discovery of the passwords employed by celebrities for their iCloud accounts.
Apple has made some changes
, and now alerts users when their iCloud account is accessed by a new device, or when there is an attempt made to change the password on such an account. More changes are expected from the tech titan.
Nude photos of Lawrence were purportedly released again, even though earlier this month representatives for the star threatened to prosecute anyone who leaked pictures of her in the future. All of the victims of the latest release are said to be celebrities included in a list of 101 people sent to 4Chan immediately after the first set of photos was disseminated. This list contains names of the rich and famous, whose pictures and videos the hacker says he has in his possession.
source:
TMZ
via
BGR