Apple granted patent for computerized headphones that spell the 3.5mm jack's demise
98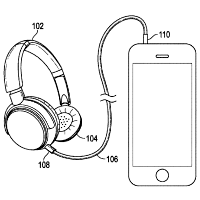 According to this patent application uploaded by the USPTO, Apple has geared up for the supposedly
3.5mm jack-less near future
of the iPhone by designing a wireless hybrid headphone system. Although the patent drawings portray it as a generic closed back pair of headphones, the thing definitely has a trick or two to surprise you with!
Rather than the common 3.5mm plug, the invention uses a cable and connector which transmit both digital and analog signals. This lets a single cable charge and control the device at the same time, which is convenient and removes the risk of ground loops interfering with audio quality. If the user were to charge the device through the Lighting port and listen to music through the 3.5mm jack, the risk of ground loops is much higher.
Also, note that the first patent drawing shows the headphones connected to what looks like a typical stereo jack. However, the 3.5mm jack on newer iPhones is positioned on the bottom. The drawing actually depicts a cable connected via a special
"headphone connector"
which, according to Apple, can be
"a USB connector, a SATA connector, or any other desired connector."
Wired or wireless, these Apple headphones will have you covered.
Additionally, the headphones contain a small computer with its own battery, processor, memory, and antenna. The mini-computer is used to authenticate the high-end cans before the paired device and buffer incoming audio, which enables seamless switching between wired and wireless sound with no drop-outs. Likewise, the antenna lets them transmit and receive wireless signals while they are being charged over the wired cable connection.
Apple will be able to fit this technology in in-ear, on-ear, and over-ear styles which means the next iPhone could be bundled with a pair of revamped EarPods that connect both ways. The patent was first filled for in October 2014, which means the gang at Cupertino has had plenty of time to test things through and could be ready to surprise music fans in September, which is when new iPhones are traditionally announced.
source:
USPTO
via
AppleInsider