Apple patent points to iPod-to-phone conversion
3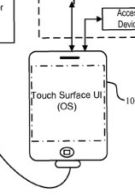 A new Apple patent application might indicate that Apple is making a transceiver accessory that would convert an iPod into a phone, or enable the iPhone on another network. The patent application's reference to CDMA means this might be the elusive off-AT&T-iPhone (kind of).
The amazing news is that the application specifically names the iPhone as compatible with the transceiver. "The mobile device shown in FIGS. 2A and 2B, can be any type of mobile computing and/or communication device without limitation. For example, an iPod Touch.TM, an iPhone.TM, an Android compatible device and/or a BlackBerry device can be used."
There is already similar technology from Yosion, called the
Peel 520
. This iPhone case provides a battery, case, and SIM card, allowing the user to make voice calls and text messages from their iPod Touch. This new device from Apple could potentially enable any number of media devices as phones. It also might represent Apple's sidestep around their exclusivity agreement with AT&T. Here's hoping...
source:
USPTO
via
Engadget