Apple fined over location tracking in Korea
17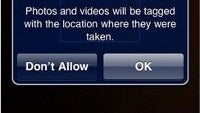 Apple's South Korean division has been fined
over the location tracking scandal which broke up a couple of months ago, after it was made clear that iDevices collected location data from users for up to a year without proper permission. The fine imposed by the South Korean communications regulator amounts to the the negligible $2,855 (3 million won), but what's more important is that the company is starting to compensate people over the issue. Earlier, Apple settled for nearly $1,000 in compensation to a Korean man for the same issue.
Nearly 27,800 owners of iOS devices are actually plotting a
class action suit
to fight Apple over location tracking. If lost, the legal battle could mean that Cupertino has to pay some $25.5 million, if we are to judge by the sum of the first lawsuit. The lawsuit is expected to be filed "by next week," according to the lawyer heading the effort, Kim Hyung-suk.
Meanwhile, Apple has admitted that
storing data for a year
was a bug it hadn't detected. Now, your iOS device can only collect up to 7 days worth of location data. The collected data is used to help faster establish the location of your device on a map.