Apple finally abreast with iPhone 4S demand
8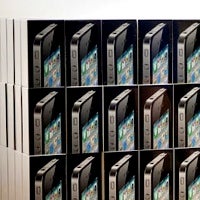 If you've tried getting an iPhone 4S over the Holidays, you might have noticed that the waiting times are making gifting it almost a mission impossible for last-minute buyers. No wonder - turns out Apple sold a
mind-blowing 37 million iPhones
and the majority of them were iPhone 4S's. Now, as the rush to get your craved device for the Holidays has slowed, the iPhone 4S has finally caught up with demand as the handset is finally
"in stock"
across various carriers and countries.
The iPhone 4S is
immediately available
in every capacity and color, with delivery times shortened to between three and five days. Actually, the delivery times have been noticeably reduced in the last two weeks.
Apple has made a special mention of surprisingly huge iPhone 4S demand that even Cupertino didn't expect and that's one reason that stopped sales from being even better. It's been around three months since the iPhone 4S hit the market with little visual change, but an all-new A5 chip under the hood, one of the best cameras on a cell phone and iOS 5.