Apple files to block Moto Aware, Motorola scrambling for update
43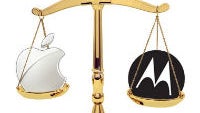 When you're wrong, you're wrong, it seems. We have been talking about how Apple has become less lawsuit-happy
since Tim Cook took over
, but it looks like it might just be that Apple is being more covert about its filings. We have gotten word that Apple has filed to block the new Moto Aware feature that we saw as part of the info on the
Motorola Luge
.
As we reported a few days ago, the Luge is planned to launch today, August 28th, as a prepaid device for Verizon customers. Apple filed to block Moto Aware within the past couple of days, which has left Motorola engineers scrambling to put together a software patch for the device that would remove the software. Moto Aware was intended to be a new service on all new Motorola devices this year, and now those plans have been upended by Apple.
We don't know exactly what Moto Aware is, but we have been led to believe that it would be a service to dynamically change your phone settings, security settings, and/or UI based on certain factors, like location, lighting, and ambient noise. If that sounds familiar, it is because Apple was
granted a patent
on a service like that this past July.
Of course, Google was granted a similar patent in
August of 2013
, and Microsoft also has a similar patent that was granted in
January of 2013
. We don't know the specifics of the Moto Aware service, nor of the Apple claim; so, we can't say whether either of the competing patents will invalidate Apple's filing. Whatever the resolution, it will take time to sort out, and that will mean Moto Aware has to be removed from Motorola devices until the issue is resolved.
Recommended Stories