Microsoft patents Inconspicuous Mode to save us from ourselves
5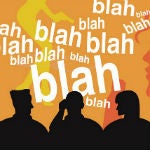 You know how it is when you go to the movies, it's impossible to remember to turn off your phone, or even put it on silent, because it's not like there is a giant screen in front of you and enormous speakers that tell you to do just that. Luckily, Microsoft wants to step in and take away all of that trouble with a new patented technology that it is calling Inconspicuous Mode.
The patent explains a system whereby your mobile phone would be automatically silenced, and the screen dimmed when you enter places like a movie theater. Of course, there are already apps, at least on Android, like Tasker and Locale which allow you to set up rules like this, or quick access profiles which would accomplish the same effect. But, the USPTO doesn't really care much about prior art as long as there is one key difference, which in this case might be the full automation.
The way Microsoft's Inconspicuous Mode would work is through a combination of GPS location, and one environmental factor, like lowered lights in a movie theater, or sound levels in a museum for example.
Not a bad idea, overall, but not something the USPTO necessarily should have decided was a patentable idea either.