Apple fans respond to jab from Android fans in infographic battle
99+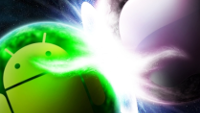 Last week, when the
Apple iPhone 6
was introduced, Android users made fun of the length of time it took Apple to join the "large-screen" club. When the
T-Mobile G1
launched in 2008, the first Android powered handset featured a 3.2 inch screen, trailing the 3.5 inches on the
Apple iPhone
. But when the
Motorola DROID
was released, it actually surpassed Apple's pride and joy by .2 inches. From that point on, it was Apple looking ahead at Android's ever-increasing glass.
In an infographic, Android fans also made fun of the specs and features on the Apple iPhone 6, comparing the handset to the
Nexus 4
. And like those old Lincoln vs. Kennedy facts (Lincoln died in the Ford Theater, Kennedy died in a Ford; both had successors named Johnson, etc.), the iPhone 6 carries a 4.7 inch screen with resolution of 750 x 1334 while the Nexus 4 has a 4.7 inch screen with resolution of 768 x 1280. The point of the comparison was to give Apple fans a big welcome...to 2012 when the Nexus 4 was launched. Among the features on the Nexus 4 that are just now making it to the iPhone is NFC connectivity.
Apple fans decided to strike back by comparing features coming on the Android L update, to the various versions of iOS when they first appeared for iPhone users. The greeting on this response reads, "Dear Android L users: Welcome to 2008!" But Apple fans made sure that the last cut was the deepest of all. Referencing the "F word" (fragmentation), the last line of the infographic reads "Enjoy Android L (if it ever comes to your phone)". Ouch.
Sounds like both sides got their licks in, so let's call it a draw. We'd all be better off remember the late Rodney King who pleaded, "
Can we all just get along?
" You can check out both infographics by clicking on the slideshow below.
source:
BGR