Apple engaging in shady deal with patent troll?
90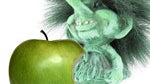 This is either sad…or
really
sad. According to a recent bit of investigative journalism
Apple appears to be transferring some of its patents to a patent holding company, which is then turning around and suing everyone
. Everyone except Apple, of course.
The company in question is Digitude Innovations, a company out of Virginia that is filing infringement claims with the ITC left and right. It's asserting patents against HTC, Motorola, Samsung, LG, Sony, RIM, Nokia, and Amazon. But again, not Apple.
Digitude was formed in 2010, so all of its patents have been obtained from other companies. This last April Digitude announced they had formed a strategic partnership with a leading consumer electronics company, and then the sue-fest began.
The partner was unnamed, but
of the four patents that Digitude is asserting two of them belonged to Apple earlier this year
. The patents were transferred through Cliff Island LLC, a shell company that only exists on paper, and is run out of the same office as Digitude's lead investor.
So something appears to be rotten in Cupertino. It's unclear whether Digitude is an outright hired gun, or if Apple was initially threatened with a lawsuit from Digitude and decided to turn a negative situation into a positive one (for them) by paying them off in patents. Either way, Apple has transferred its intellectual property through a shell company to a patent troll, who is now creating even more chaos for Apple's competitors. Handling the deal through shell companies has so far allowed Apple to avoid the publicity of launching another round of lawsuits.
Apple and Digitude have so far refused to comment, but perhaps with some public pressure they'll think different about that.
source:
Tech Crunch