Apple could be fined up to $11.5 billion in France after being accused of planned obsolesence
43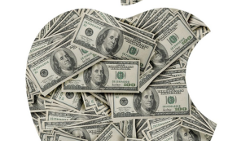 A week ago today,
Apple revealed that it slows down the CPU on older iPhone units
with aging batteries in order to prevent the devices from shutting down. This
led a number of iPhone users to file a lawsuit against Apple for breach of contract
, as Apple never informed users that it throttles the speed of their device. Apple is also being accused of slowing down the CPU on older handsets whenever the latest iPhone models are released.
Yesterday, a French consumer organization called HOP, which stands for "Stop Planned Obsolescence," filed suit against Apple in France. Joining Apple in the group's crosshairs is printer manufacturer Epson. Laetitia Vasseur, co-founder of HOP, says that by filing the two complaints, it hopes to have both companies answer to charges that they violated French consumer law; in the country, planned obsolescence is not allowed. Companies found guilty of violating this law can be fined as much as 5% of their annual revenue. That would amount to a hefty $11.5 billion fine that Apple could be forced to pay.
French law prevents companies from shortening the lives of its products on purpose in order to generate demand for newer models. Updates that Apple sent out last year for the
Apple iPhone 6
,
iPhone 6s
,
iPhone SE
and
iPhone 7
included a feature that throttled CPU speed in order not to tax older batteries. The specific update was to iOS 10.2.1, and a month after its release, Apple revealed that it was sent out
to prevent certain iPhone models from shutting down
when the battery could not provide enough power to handle a heavy duty task.
"With iOS 10.2.1, Apple made improvements to reduce occurrences of unexpected shutdowns that a small number of users were experiencing with their iPhone. iOS 10.2.1 already has over 50% of active iOS devices upgraded and the diagnostic data we've received from upgraders shows that for this small percentage of users experiencing the issue, we're seeing a more than 80% reduction in iPhone 6s and over 70% reduction on iPhone 6 of devices unexpectedly shutting down.

We also added the ability for the phone to restart without needing to connect to power, if a user still encounters an unexpected shutdown. It is important to note that these unexpected shutdowns are not a safety issue, but we understand it can be an inconvenience and wanted to fix the issue as quickly as possible. If a customer has any issues with their device they can contact AppleCare."-Apple statement in February 2017 about update to iOS 10.2.1
While Epson denied the charges against it, Apple France could not be reached for a statement.
source:
Reuters