Apple could avoid the Homepod 'white ring' issue, design experts say
22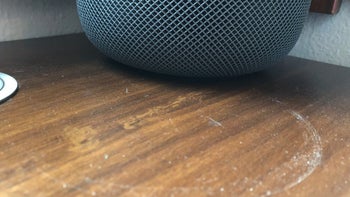 Image credit: Trevor Daugherty
Apple jumped right into the smart speakers market with the release of
the HomePod
– the tubular-shaped dream of every audiophile – which came with a hefty $349 price tag, but brought an exceptionally good sound quality. The HomePod, however, came with a "feature" Apple had forgot to mention – the smart speaker had the habit of leaving white circles if it was placed on a wooden surface.
The issue has been reported many times in the past few weeks, although it only has occurred to a small portion of users. The white stains occur when the HomePod plays music – the vibrations cause the silicone underneath the speaker to react with the surface its placed on, which, if oil-stained wood, would result in stains. Apple has recognized the issue, advising owners who've encountered it
to move their HomePod to another surface
, then sand and re-varnish the stained wood to clean it.
But could the Cupertino company avoid all the controversy in the first place? Apparently yes, if sufficient testing was conducted prior to the HomePod release, say industrial design experts.
"They didn't test the product enough and in the right variety of circumstances, especially considering that a wood surface is a very likely support for the product,"
said ex-product design expert at Microsoft and Ericsson, Ignazio Moresco. "
They should have caught the issue if they followed a rigorous QA process
", Moresco added.
"
I'm actually very surprised,
" said Senior Industrial Designer of Y Studios, Cezar Viramontes, who also believes the 'white ring' problem will be tackled by Apple in the next round of manufacturing of the HomePod.
Regarding why the issue has made it through in the first place, product development consultant Gregor Berkowitz thinks it might be related to the lack of experience Apple has regarding the production of speakers in general. "
This is sitting on a bookshelf. Is it going to work? Or are there going to be problems? A traditional consumer product company or a speaker company or a traditional Hi-Fi company is going to worry about that and think about those problems and have experience with it,
" Berkowitz said. He also mentioned Apple may have to rethink the manufacturing process to completely eliminate the issue. Berkowitz also thinks that tackling the white stains problem won't come cheap for Apple and will take some time – anywhere between two and six weeks.
Recommended Stories