Apple reportedly warns developers creating shows for TV+ not to tick off China
46
There is no denying that China is one of Apple's largest markets. And the company always has to tread lightly in the country to make sure that it doesn't rile up the Chinese government and consumers. The latter has shown that it will stop buying the iPhone and focus on devices from Huawei and other domestic manufacturers to protest what it perceives to be unfair treatment on the part of the U.S.

Earlier this month,
Apple pulled an app from the App Store called HKmap Live
that revealed crowdsourced locations of police presence and protests against the Chinese government in Hong Kong. Needless to say, this didn't go over well with the Chinese government which wants to control the region which was turned over to it by the British in 1997 with promises of autonomy. But self-rule doesn't fit into the plans of Chinese President Xi Jinping.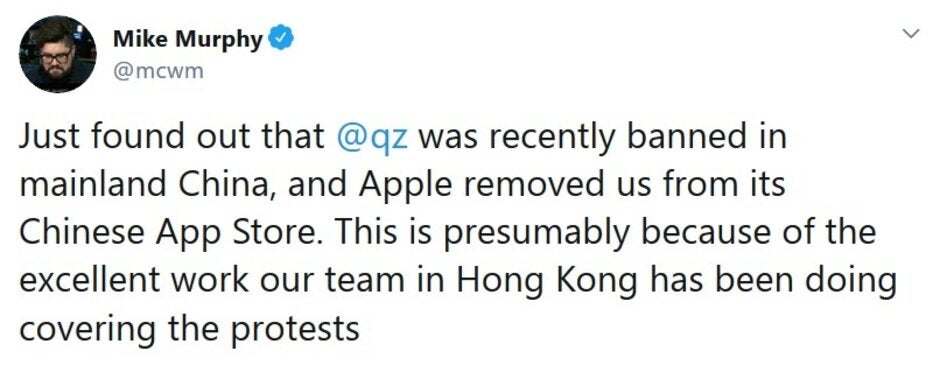 Quartz' Tech editor Mike Murphy comments after Apple pulled the app in China
After having its app deleted, HKmap Live disseminated a tweet in which it repeated some of Apple's reasoning for banning the app: "Your app contains content - or facilitates, enables, and encourages an activity - that is not legal ... Specifically, the app allowed users to evade law enforcement." However, HKmap Live stated that the company was assuming that those using the app "are lawbreakers and therefore evading law enforcement, which is clearly not the case." Apple reinstated the app after feeling the heat from the Western media. But it seems that Apple is more concerned with what it reads in China's state-run newspaper. After getting blasted in China's
People's Daily
,
Apple reversed course
and once again banned the app. Apple CEO Tim Cook said that Apple had received information that the app was being used to "target individual officers for violence."
Apple has a history of giving in to demands from the communist Chinese government

And if that doesn't make it clear which side Apple is on,
BuzzFeed reported on Friday
that Apple has told those developing television shows for its Apple TV+ streaming video service not to write scenes or include scenarios in their shows that might upset the Chinese government. The report indicates how China's state-run media has been stroking Apple's ego. After removing the HKmap Live app for the second time, one of China's propaganda rags wrote, "Chinese netizens hail Apple's removal of app that aids HK rioters." That was in the
Global Times
, which quotes an analyst as saying, "Apple highly values the Chinese market and removing the controversial app is a smart move." The most-read story in the aforementioned
People's Daily
on Friday was an article headlined "Apple removes app which helped HK rioters elude police."
"Apple Told Some Apple TV+ Show Developers Not To Anger China- hey and don't mention that Turkey is bad. We sell a lot of watches there. And don't mention Saudi Arabia murdering journalists- they love the iMac and don't mention Russia—big iPad market."-Judd Apatow, U.S. filmmaker via Tweet
Remember, Apple is the company that closed off access to iOS and Siri for so long in order to show its independence. This is the company that defied the courts and the FBI by refusing to unlock an alleged terrorist's iPhone. And now, the company is kowtowing to the communist Chinese government for...what? Higher sales of the iPhone in the country? We know that Apple has a humanitarian side because it fights for privacy and is a strong promoter of LGBTQ+ rights. But consider this; in addition to removing HKmap Live, Apple also pulled the Quartz app in China and the Taiwan flag emoji in iOS as well. Quartz is a news app with a focus on the global economy and the Chinese government demanded that Apple remove it from the App Store. Quartz technology editor
Mike Murphy wrote in a tweet
that "This is presumably because of the excellent work our team in Hong Kong has been doing covering the protests."
Apple obviously tries to avoid playing politics; its response to President Donald Trump's tax on imports from China has been measured. Nor did Apple get involved when Trump made up a story about
Apple building "three big plants, beautiful plants"
in the U.S.
Yet last year, Apple caved to China
and decided to store the servers containing Chinese iCloud accounts and the cryptographic keys needed to open them, inside the country. It's almost as though President Xi and his administration know that they have Apple by its short hairs.