Apple considering change to its display technology to extend battery life?
32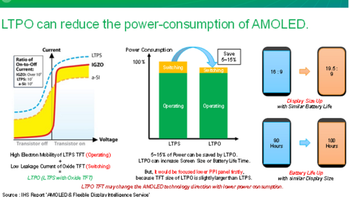 Analysis from research firm IHS Markit suggests that Apple might consider a change to a low-temperature polycrystalline oxide (LTPO) backplane, from the current low-temperature polysilicon thin-film transistor (LTPS TFT) currently used on its OLED displays. The backplane is the part of the display used to turn the pixels on and off, and is therefore responsible for the display's power consumption, resolution and refresh rates.

According to the report, Apple has filed three patents related to LTPO in 2014, 2015 and 2018. The analyst behind the report, David Hsieh, does ask an interesting question. If Apple is sourcing its OLED panels from other companies, why is it so interested in creating its own backplane system without working with its OLED suppliers? Hsieh has a few reasons for this:
To be more closely involved in flexible OLED component cost and technology.
To reduce power consumption of Apple products.
To achieve high electron mobility for higher resolution of its displays.
To better manage its display supply chain and that of its partner-display manufacturers.
Battery life could be extended anywhere from 5% to 15% using LTPO (view the image at the top of the display). But not everything about LTPO is positive at the moment. Right now, LTPO requires larger thin-film transistors, which means fewer transistors in the display substrate. That would mean lower resolution screens. And the larger photomask needed for this technology (20% larger than LTPS) requires more expensive equipment; additionally, the process of producing the components for LTPO is more complex.
According to Hsieh, Apple might audition the LTPO backplane on the smaller Apple Watch display before using the technology on the iPhone.
Recommended Stories