Apple confirms illegal iPhone X assembly shifts at Foxconn, says student interns worked 'voluntarily'
27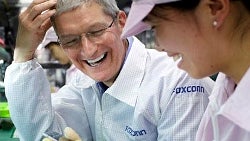 Foxconn, Apple's
embattled iPhone assembler
, may be under fire again, after a Financial Times investigation discovered six student interns working overtime to put together the
iPhone X
in time for all those early preorders to be fulfilled. The youngsters slaved over the conveyor belts for 11 hours straight in multiple instances, which breaches Chinese laws that puts in place safeguards for student interns.
The report, however, notes that the students wanted to work the long shifts voluntarily, yet there is a whiff of hypocrisy here, as they have also been asked to work at the Foxconn factories as obligatory "work experience" in order to graduate. It's not the first time that unsavory work conditions have been found at Foxconn's factories, which also assembles electronics for a vast amount of brands other than Apple, and the CEO
Terry Gou
was so annoyed by the complaints that he overworks the employees that threatened to
replace them all with robots
.
Well, one of the 11-hour students in the report said they managed to assemble up to 1200 cameras for the iPhone X per shift, and apparently there was no robot to take over and work with such speed and precision. It must be that
all the robots have already graduated
. Apple launched its own investigation into the matter, and has come out with the following statement about the report: "
We've confirmed the students worked voluntarily, were compensated and provided benefits, but they should not have been allowed to work overtime
."