Apple co-founder Wozniak about Xiaomi: they're good enough to break the US market
9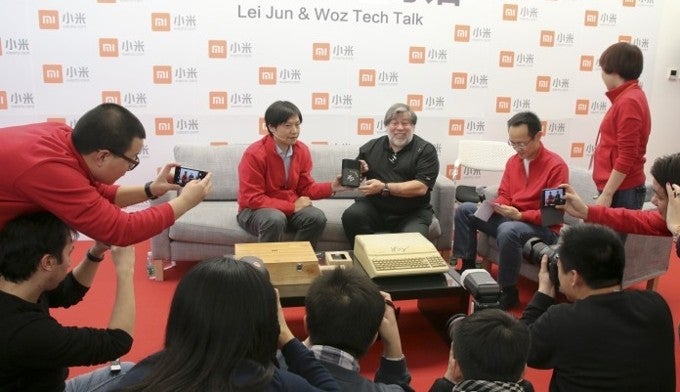 Putting Xiaomi next to Apple and Samsung may seem like a foolish thing to do. For most phone users in North America and Europe, Xiaomi doesn't mean anything. It's like it doesn't even exist. Still, the company based in Beijing, China might become a threat to both Samsung and Apple, which are currently leading the global smartphone market.
A few days ago, we told you that Apple co-founder
Steve Wozniak had visited Xiaomi
's headquarters for a semi-public tech chat, while ex-Googler Hugo Barra reported that Woz started using a high-end
Xiaomi Mi-3
smartphone, and liked it. Hugo Barra, in case you didn't know, is Xiaomi's Vice President since last year.
Now, TechinAsia has more to report from that meeting. According to the website, Steve Wozniak said about Xiaomi that it "has excellent products" and "they're good enough to break the American market."
Xiaomi certainly has the resources to enter the US market. Lei Jun, the company's Chairman and one of its co-founders, is currently among China's more than one hundred billionaires. Asian media frequently calls Lei Jun "the Steve Jobs of China", although he doesn't like that. Xiaomi's other co-founder, Lin Bin, was Vice President of Google China's Engineering Research Institute prior to establishing the new business.
Sure enough, breaking the US market is difficult for any company. And perhaps Xiaomi doesn't want to sell smartphones in North America at all. Even if it won't, it still seems set to rapidly expand in Asia - and this alone may affect Samsung's and Apple's market share.
Xiaomi hopes to sell 40 million smartphones throughout 2014, thus doubling sales from last year. At the moment, the company is shipping its Android-based handsets only in China and several other South-Asian countries.
source:
TechinAsia
Recommended Stories