Apple boosts its gaming department with the appointment of two major PRs?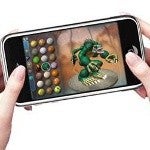 Reports are flooding the net that two high-profile gaming PR executives have joined Apple to focus on its iOS platform.
These talented lads are named as Robert Saunders, who, until recently, was Nintendo UK's head of PR and Nick Grange, who previously worked for EA Sports and Microsoft, and is currently listed as Activision's European PR director.
Take into account these reports are neither confirmed by the Cupertino-based company, nor by the above-mentioned individuals, but if they hold water Robert Saunders will occupy a newly-created role at Apple, the main focus of which is said to be PR for iPad, iPhone and iPod apps, while Nick Grange will join the company to work on the hardware capabilities of the iPad.
As we pointed out in
our article on the subject
, Apple managed to ignite a mobile gaming revolution with the launch of its iPhone and iOS, not to mention that virtually everyone agrees that gaming on smartphones is growing in importance. With these facts in mind, it's unsurprising that Apple wants to retain a big share of that profitable pie, and if these appointments are confirmed, this would underline that smartphone gaming really matters today.
source:
MCV
&
MCV
via
AppleInsider