Apple and Samsung are cool, but Polytron Technologies aims higher - at the fully transparent smartphone!
35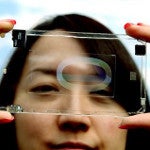 In such a wildly-competitive environment such as the mobile industry, how can you take your competitors by surprise? Well, you'll surely have to come up with something amazing that is well ahead of its time.
It seems that is exactly what the Taiwanese from Polytron Technologies are trying to do here by unveiling this fully transparent smartphone prototype. Naturally, we aren't sure at all if their plan is to succeed, because the benefits of the transparent phone are somewhat unclear to us, but still, it's interesting to see what these guys think about the future of the smartphone.
As you can see from the images, the prototype device is almost fully transparent, with the only visible stuff being the board, chips, memory card and camera. The rest is just a piece of glass with a small touchscreen (also transparent) positioned in the center. According to Polytron, such devices may be available by the end of 2013 - a time-frame which sounds quite unlikely to us.
All in all, while we still can't see much use in a fully transparent gadget, we're glad to see that some companies are trying to develop such kinds of futuristic stuff. You never know where the next big thing may come from!
via:
MicGadget