Apple adds in-app purchase warning to the App Store
13
In order to prevent underage children from purchasing in-app extras while playing freemium games downloaded from the Apple App Store, Apple has added a warning underneath the purchase/download button. For most adults, this is not a big deal, but for parents of young children, the four words (and a hyphen) that could save them big bucks is "
Offers in-app purchases
." We have passed along to you stories of some young kids who have spent from hundreds to thousands to purchase extra lives, gold coins, and other in-app extras. Apple has generally
settled with the parents
in these cases by eating the charge.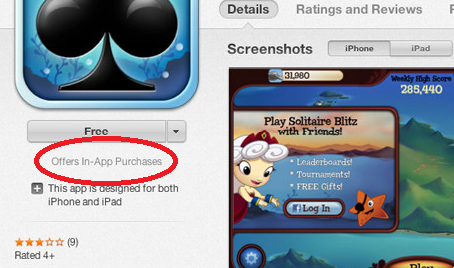 Apple only put the warning on the web version of the App Store
One solution offered by a parent whose son spent $200 to keep the virtual fish alive in the game
TapFish
, is for Apple to require different passwords to buy an app and to make an in-app purchase. Apple's solution is to put the warning up for those apps that offer in-app purchases, hoping that by seeing it in writing, parents will be more vigilant about letting their kids have access to their password.
But this is only a half-assed solution to the problem as the warning only appears
on the web version
of the App Store. Since most purchases are made using the mobile version of the app store, the warning might not stop underage in-app purchases at all. The bottom line is that if Apple continues to let parents off the hook in these situations, it will end up having to shell out more money to prevent what looks like a public relations issue. Sure, Apple has all the money in the world right now, but it should save some for a rainy day and coming up with a stronger answer to this problem would help.
Apple recently settled a Class-Action suit
filed by parents of children who made in-app purchases. Members of the Class received a $5 iTunes Gift card up to a $30 gift card depending on the amount of the claim. Those who could proved that their child spent more than $30 to make an in-app purchase received cash.
source:
TheGuardian
via
electronista