Apple Watch won't be sold to walk-in customers right away, but you can book an appointment to try one
14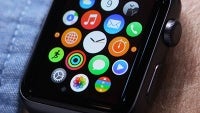 If a bunch of leaked Apple Store personnel training documents are to be trusted, then the Apple Watch won't be sold to walk-in shoppers during its initial launch window. What's going on here? Well, as you are probably aware, the Apple Watch pre-sale starts on April 10, and shipments begin two weeks later, on April 24th. During this time (and probably longer), there will be no walk-in purchases. Instead, eager customers will be able to make an appointment to try one out at the Apple Store nearby. And if they want one, they can finish off with an online reservation (right inside the store) for
a specific Apple Watch model
in a retail store of choice. Think of it as Apple's "Personal Pickup" system which it employs for iPhone and iPad launches, combined with a pre-order and a bit of
"feeling special for my Apple Watch try-out appointment today #stoked"
retail magic.
Strategic marketing aside, Apple's decision might boil down to its supply constraints. Display supplier LG seems to have yield problems, coming up with 60 to 70% deficit in plastic OLED panel production. Although LG has been making these for the LG G Watch R in a breeze, the panel on the Apple Watch is of higher resolution and has to be able to show 60 frame per second animations, which probably makes it harder to produce. Additionally, Quanta, which is Apple's main manufacturing partner for the wearable, is struggling with yields too. By the end of March, only 300,000 units a month were shipping, which is a far cry from the 1.25 to 1.5 million units Apple wants to output on a monthly basis. Initially, Cupertino
aimed for 2.5 million to 3 million
, but this proved too ambitious a target. Now, rumors are talking of
a 3 million Apple Watch initial supply
, so be prepared for some waiting around.
As with all things Apple, the production hurdles will probably be cleared in a quarter following the launch. You may remember that the Apple iPhone 6 Plus was a bit hard to come by in the beginning, due to issues with the touch panel and coloring among other things (such as balancing the supply and demand ratio). But
things were largely okay in a few months after the September reveal
. Regarding the Apple Watch, it is rumored that longtime partner Foxconn could be brought on board to help with the Apple Watch assembly, which would definitely lend a helping hand.
source:
MacRumors