Apple Watch thrown around in three water resistance tests - will it survive?
27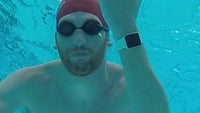 After months of anticipation, Apple has finally released its Watch to the world. Well, at least it's shipping it out to users who pre-ordered – if you are trying to grab the wearable from a brick-and-mortar Apple store, we'd suggest you don't get your hopes up, as Cupertinians are still far from balancing supply and demand.
Now, if you are a happy owner of a brand-new fruity timepiece, or one that is soon about to receive one, you may be wondering about the gizmo's durability and how much exactly you should keep it away from the elements. As far as screen scratch resistance goes – the Sport version has an Ion-X glass, while the regular and Edition versions are shielded with a sapphire glass, which means that they should be much better at resisting almost any conditions (allegedly, the only thing that should be able to scratch a sapphire glass screen is diamond, and we are pretty sure you don't roll in these on a regular basis, right?).
But what about water resistance? Apple hasn't been big on advertising it, it has only said that the Watch has a resistance rating of IPX7, meaning it will be able to withstand your sweat and splashes of water, but
submerging is not recommended
. But, again, what amount of "splashes" is it able to withstand?
Well, tech blog DC Rainmaker has went on to try and "drown" the watch, submerging it in a special waterproofing test chamber, and by using it casually, while diving and swimming in a pool. Does the timepiece survive? It sure does.
What should you take away from this? Well, we still wouldn't recommend submerging your Apple Watch fully based on these videos, but they still provide some assurance that the timepiece can definitely take a considerable amount of "splashes". So, use around water without fear, but still – take it off if you will be going for a swim – just in case.