Apple Watch sellers on eBay look to profit from early adopters
21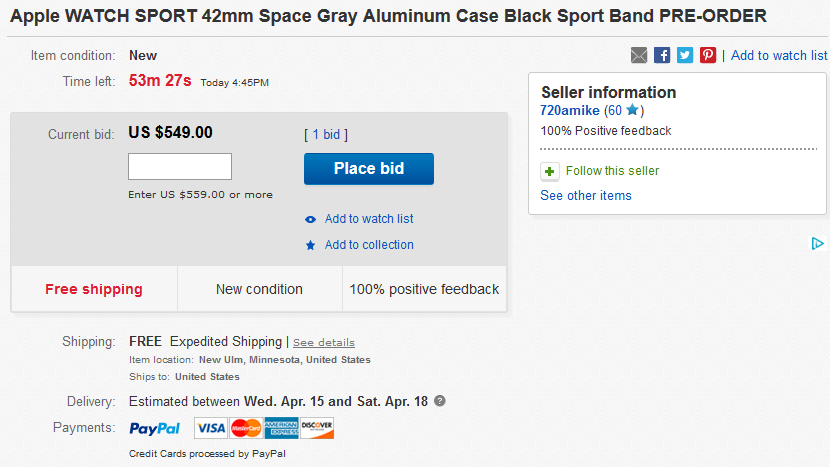 There are many listings for the Apple Watch on eBay
If you think that turning to eBay to order the Apple Watch is going to save you some money, better start facing reality. While hundreds of listings for Apple's timepiece appear on the auction site, most are going for a stiff premium over the price that the sellers paid when they pre-ordered the smartwatch from Apple.
A 42mm Apple Watch Sport that Apple sells for $399 was sold for $560. But that is the price you have to pay to get the watch when the first batch ship on April 24th. Anyone ordering this watch now from Apple would not take delivery of it until June or July.
Remember, you cannot reserve an Apple Watch from the Apple Store. What you can reserve is an appointment to check out the watch at a future date. You can also set up an appointment from the comfort of your own house by going to the online Apple Store.
If money is no object, browsing through the listings of Apple Watches for sale on eBay will get you one pretty fast. But if you can't, or won't, pay a premium over Apple's retail price for a particular model, rummaging through eBay is not going to do you any good. Your best bet in that situation is to accept that others might be brandishing the Apple Watch months before you do.
source:
CNBC
via
Gizmodo