Apple Watch Series 4 unboxing and first look
6
The newest Apple Watch Series 4 is the biggest upgrade to the wearable that Apple launched more than three years ago, in 2015. It has a 30% bigger display, a much faster processor and a more well-thought out design that makes it easier to take calls and talk to Siri.
So let's unbox it and see what you can expect to find in the box when you buy the Apple Watch Series 4. But first, let's applaud Apple for making a very clever and clean packaging. The nylon surrounding the box has a special pull tab, so you can easily take it off, while the box opens in a very ingenious, origami-style way without the need to tear anything off (and you can then, close it back to the original form easily. Inside the main box, you find two smaller boxes, one for the watch itself and a separate, thinner box for the band that comes with it. In our case, we ordered the 44mm Apple Watch Sport model in silver, with a white sports band.
So here is everything that's in the box:
Apple Watch
Band in 2 sizes (an S size and an M/L size)
Wall charger (5 watts)
Magnetic charging cable
After a short and easy set-up process, our first impressions from the watch are quite positive.
It feels slightly faster than previous Apple Watches and that new display really looks like something special, colors on it look great and the tinier bezels make a big impression. We did notice that while the Series 4 watch is technically a hair thinner than earlier models, the protruding bottom belly that houses the heart rate sensor now goes further down which makes the watch almost float slightly above your wrist and appears a bit bigger than it is. Not a dealbreaker, but something to keep in mind.
Now, you also get a slight haptic feedback when you turn the digital crown. It's indeed very subtly, but it gives more definition to every turn of the crown and improves the experience of using it.
Final Words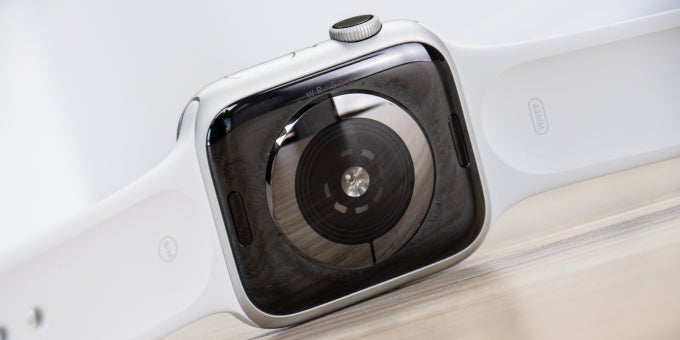 Overall, it's the screen and the very fast response of the Series 4 that really make a big impression.
We'll be sharing more about the Apple Watch Series 4 in our upcoming review, including our observations about the watch's battery life and how useful it is for active people and gym goers, so stay tuned!