Apple Watch Series 3 rumor review: design, features, price, release date, all we know so far
14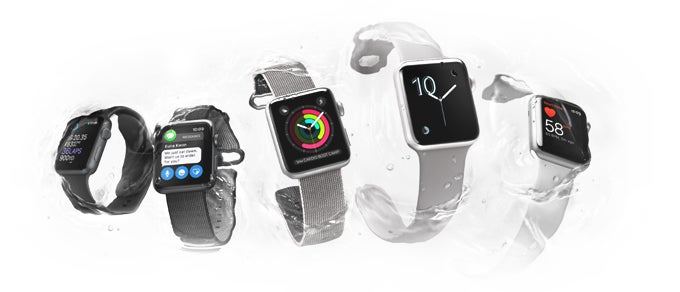 The current Apple Watch Series 2 – with GPS and water resistance down to 50 meters
Smartwatches – they never became a smashing hit, but there's one company in particular that has been selling them by the millions. That would be Apple, which ships more smartwatches than any other company in the business. For this reason the rumors of a new and improved Apple Watch model come as no surprise. But how exactly will it be superior to Apple's current offerings? Well, let's go over what we know so far.
What will we call it anyway?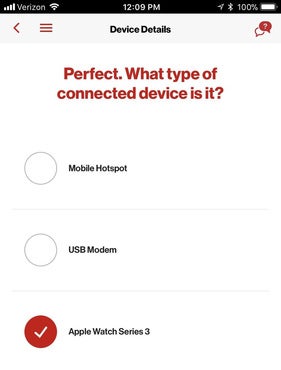 Until recently, we had no clues pointing at a specific name for Apple's next smartwatch. Now, however, it seems very likely that the wearable will be known as the Apple Watch Series 3, as this is is the name Verizon itself mentioned for a brief moment on its app. Here is a screenshot that Reddit used TheMightyCracken shared earlier to spread the word.
This leak further suggests that the Apple Watch Series 3 will be available on Verizon. It also makes it very likely that the smartwatch will support wireless connectivity over LTE – a feature previous rumors have already mentioned.
Design: what will the new Apple Watch look like?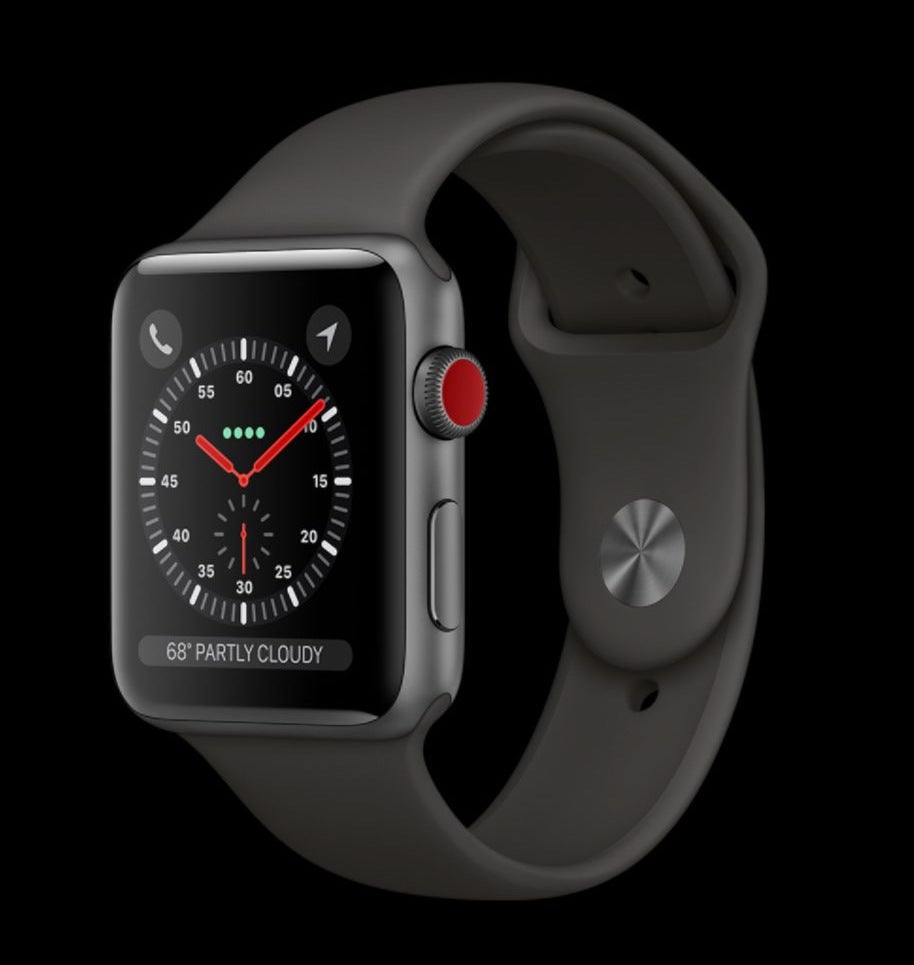 It was rumored that Apple would introduce a new form factor with its next-generation Watch. However, Apple analyst Ming Chi-Kuo stated that the Series 3 Apple Watch will not introduce any obvious changes as far as form factor is concerned. In other words, the next Watch could end up looking exactly like the previous two models, and the circular Apple Watch we've been fantasizing about might not come until late 2018.
The image on the right was obtained from the leaked iOS 11 Gold Master and confirms Chi-Kuo's statement. The only visible difference appears to be the red accent on the crown. Note the complication in the middle, most likely an indicator for cellular signal strength. (via
9to5Mac
)
We made a mention of circular smartwatches above. Designing a timepiece with a classic round shape would pose a number of technical hurdles, which could be why Apple won't be making the switch yet. One is that a rectangular or square display is more efficient at displaying content. Another is that most electronic components, especially batteries, are intended to fit inside rectangular housings. One way around the latter is to use custom-made components and battery cells that make more efficient use of space inside a wearable, such as the hexagonal cell inside the LG Watch Sport.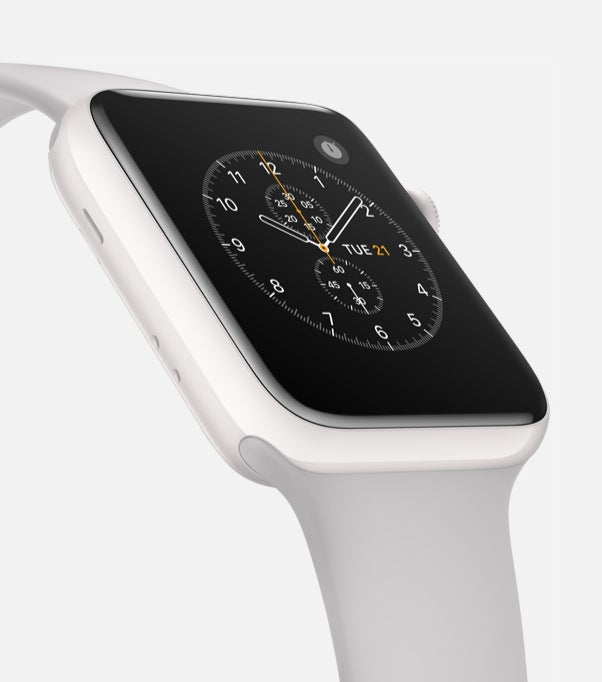 The ceramic Apple Watch Series 2 is the fanciest you can get right now
Shape aside, the current range of Apple Watch models use various materials for their housings, depending on how much money you're willing to spend. The most affordable Watch is made of lightweight aluminum, but you can upgrade to stainless steel or even ceramic.
At this time, we're not sure if Apple will introduce new materials with the Watch Series 3. Several new colors, however, are expected to make an apperance - blush gold and ceramic gray". And that's great to know. After all, if the wearable is really going to stick to the same form factor, Apple should really bring in some visual variety to make its newer Watch model stand out.
Chances are that the 3rd gen Apple Watch will come in two sizes, much like the current models. And yes, it appears that old bands will fit the new models. Our guess is that the 50-meter waterproofing isn't going anywhere.
Features: what will the Apple Watch Series 3 do?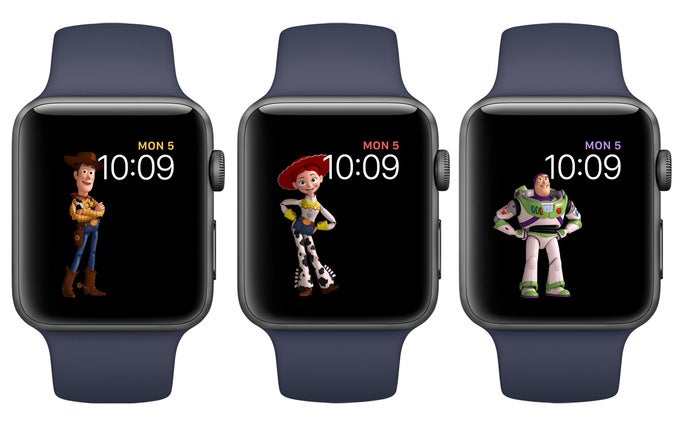 Watch faces with Toy Story characters are among the many perks coming with watchOS 4, which the Apple Watch Series 3 will run
Not long ago, Tim Cook himself shared that he had been testing a blood glucose monitor – the kind of device a diabetic would use to keep track of their blood sugar levels. It is known that Apple has been doing research in the field of blood sugar tracking, and it is speculated that a non-invasive monitoring device made to work along with the Apple Watch could be in the works. To be clear, it is not confirmed that the said monitor will be built into the next Apple Watch. It could be built into a special band instead.
Speaking of which, patents suggest that Apple is considering high-tech Watch bands with electronics built into them. For instance, one patent describes a band with haptic feedback hardware inside it, but other applications also come to mind – a band with a built-in camera or one with a backup battery in it, to name a few.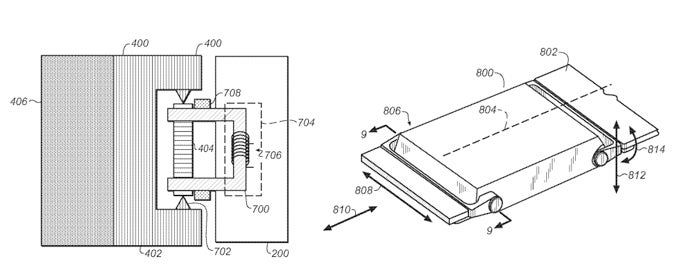 Apple patent describing wrist bands with built-in taptic feedback hardware"&nbsp
The next Apple Watch is also rumored to be capable of stand-alone operation, as in it won't necessarily need to be connected to a smartwatch to be fully functional. To make this happen, Apple is expected to build LTE connectivity into the device, as we mentioned earlier. This will be most likely done through an embedded Apple SIM card. Data connectivity will be provided by the cellular network. You might be able to send texts and make Dick Tracy-like calls eventually, but the Watch Series 3 might not support this at launch.
On the hardware side, we are likely to see Apple throw in an upgrade or two, such as a faster processor or a better display, but rumors on the matter are scarce. In any case, it is safe to say that the built-in GPS for location tracking and NFC for making payments will remain as standard features.
The tracking capabilities of the Apple Watch Series 3 are expected to improve with the addition of new exercises, including American football, baseball, bowling, boxing, dancing, skiing, bowling, core training, step training, and pilates. It is not out of the question to see new or improved sensor hardware that makes tracking of such and other activities more accurate.
Apple Watch series 3 price and release date
Apple announced the second-generation Apple Watch back in September of 2016, which is why it is logical to assume that a successor is coming this month. Apple has already confirmed that it will host a media event, so that's where the Apple Watch Series 3 will most likely make its appearance, along with the next iPhone generation. As far as release dates go, Apple is usually quick with its products launches, so the next Apple Watch could go on sale only weeks after its announcement. According to rumors mass production of the device has already started.
Its price? Well, don't expect it to be cheap. The Series 2 Apple Watch starts at $349 and can cost up to $1299 if you go for the fancy ceramic version. The Series 3 Apple Watch isn't likely to be any cheaper.