Apple Watch - the specs review
60

Introduction
The Apple Watch has all the qualities of a genuine new product category announcement. It's a new form factor with distinct functionality and innovative hardware. Just glancing at all the custom materials and hardware components Apple's specialists developed in partnership with the best in business, we can't help but feel the same excitement from way ago, when Apple brought out the iPod - the player that redefined portable players. Now, the Apple Watch is no iPod - from what we've seen, we don't think it will "reinvent" smartwatches. For all we know, both Apple and Google are still in the position of having awesome wearable hardware and figuring out what they can do with it.
But just like Android Wear devices, the Apple Watch is a terrific piece of kit. It's a labor of love from an Apple which worked hard and strived to make an example of both a gadget and a watch. Now, without further ado, let's review the combination of design and hardware prowess that constitutes the Apple Watch.
Design
To make the Apple Watch stand out, the Apple team put aluminum, stainless steel, and 18k solid gold on a table and started thinking how to make them be the best aluminum, stainless steel, and solid gold incorporated in a smartwatch.
Aluminum was chosen for the Apple Watch Sport. Apple took the 7000 series aluminum, used in competition bicycles, and made a new alloy with it - 60% stronger, at one-third the density of stainless steel. Each aluminum case is machined, polished, and blasted with microscopic zirconia beads for a consistent satin texture. Finally, anodizing creates a hard, clear outer layer for protection against scratches and corrosion. That's not all there is, though. The Apple Watch Sport's watchface is covered in Ion-X glass. This type of glass is used in space shuttles and high-speed trains - it's five times stronger than regular glass. The construction is complete with
fluoroelastomer
- it's what the wristband is made of. The material is fire and water resistant, flexible and strong. It has a soft feel and drapes smoothly across your wrist.
Moving onto the Apple Watch - the regular one that's simply titled Apple Watch - we're starting to talk stainless steel. Apple loves stainless steel, but plain steel wasn't up to its maniacal standards. So its engineers made it up to 80% harder through a specialized cold-forging process. They also added a carbon layer to make the space black stainless steel case and matching steel band. What, you thought they painted it? The 'regular' edition's watchface is covered in sapphire that's cut using diamond-encrusted wire and polished with diamond-covered pellets. The wristband is made of the same steel alloy.


Finally, Apple brought out the gold for the obscenely expensive Apple Watch Edition. As gold is soft metal that nicks and scratches, Apple hardened it up, making it twice as hard as standard 18-karat solid gold. Make no mistake, though - this is still the real thing, and it's coming in authentic yellow and rose gold colors. The watchface is covered in sapphire as well. And for the wristbands, Apple shopped leather hides from "three of the world's best-known artisan tanneries", added magnets to the quilted Leather Loop (for an infinitely adjustable fit), and an inner layer of stretch-resistant polymer (stronger than Kevlar) to the Modern Buckle.


The Apple Watch is available in 38mm and 42mm sizes (height). The watch is water and dust-resistant too. Here are the exact case dimensions with different wristbands on:
Display
Heard of LG Display? Lately, plastic OLED screens are its business, and business is good! Exceptionally good at that, given that LG is producing millions of those p-OLED panels, which it also uses in its G Watch R. Laminated on the outside to sit flush with the body, the 1.5-inch flexible panel has a resolution of 340x272px for the 38mm version and the 1.7-inch screen for the 42mm version has a 390x312px resolution. With pixel densities of 290ppi and 293ppi respectively, the display does venture near Retina territory, although the original Retina display - the one on the iPhone 4 - had a pixel density of 326ppi. Even though the Apple Watch display doesn't look as flattering up close as the iPhone 4's screen did back in the day, it's certainly one of the most vivid, lively displays we've seen on a smartwatch. Animations seem to be running at a full 60 frames per second, which makes them seem very fluid. Hopefully, the display is also bright enough to be used in sunlight.
Around the flexible display, tiny electrodes are positioned that distinguish between a light tap and deep press, triggering specific commands. This is the so-called Force Touch tech that's poised to make an appearance in the next iPhone. Pressing firmly on the Apple Watch's screen brings up contextual controls in apps like Messages, Music, and Calendar. Beneath the display, a linear actuator produces haptic feedback, tapping you on the wrist whenever you receive an alert, a notification, or press down on the display. It's not the good old vibration motor, which uses a rotating mass - it's a linear resonant actuator, or a pizeoelectric actuator.
Processor and memory

The Apple Watch is powered by an Apple-designed, Samsung-made processor by the name of Apple S1. It is said to be nearly as powerful as the one in the iPhone 4s, and it's also an achievement in itself. The 28nm application processor, memory, storage, and support processors for wireless connectivity, sensors, and I/O are entirely contained in a single module, whose contents are encapsulated in resin to protect them from outside forces. Not much else is known about the CPU, but component suppliers have previously informed analysts that the CPU is paired with 512MB RAM and 8GB of storage. Seeing that the Apple Watch lets the iPhone deal with most of the heavy processing, we'd say the wearable isn't lacking in the important hardware regard.

Speaking of which, sensors are the second type of components that make or break a smartwatch. And as any self-respecting smart timepiece, the Apple Watch is full of 'em. Not only does it have an optical heart rate sensor, it uses a special flavor that looks at both visible and infrared light to determine your pulse. It's the most elaborate heart rate sensor in a wearable - it also includes photosensors that work together with the light and infrared ones. The device most likely has a single microphone, and it also features a pressure sensor, and an accelerometer. There's probably more to it, but as you can see, Apple has been very picky with the technology used in the Watch - it actually invented no small part of it!







Connectivity

The Apple Watch most likely uses a Broadcomm BCM4334 networking chip, which has seen use in devices such as the Galaxy S3 and the iPhone 5. It supports Wi-Fi 8-2.11 a/b/g/n, Bluetooth 4.0, FM radio, and there's also NFC for Apple Pay.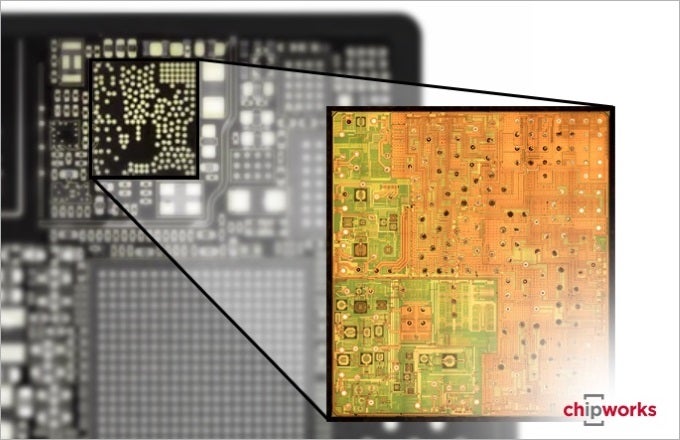 Battery Life
We don't know what battery cell powers the Apple Watch, but Apple strived for about 18 hours of battery life. The company conducted precise testing and ended up with the following estimates: 90 time checks, 90 notifications, 45 minutes of app use, and a 30 minute workout with music playback via Bluetooth over 18 hours (with standby mode, display usage, and occasional uses depleting additional battery life). As for charging times, the Apple Watches fills up to 80% for an hour and a half of charging. Charging from 0% to 100% takes 2.5 hours with the included MagSafe charging pad - and with Oppo announcing a smartwatch reportedly capable of five-minute charges, Apple certainly has its work cut out for improving the Watch's charging time.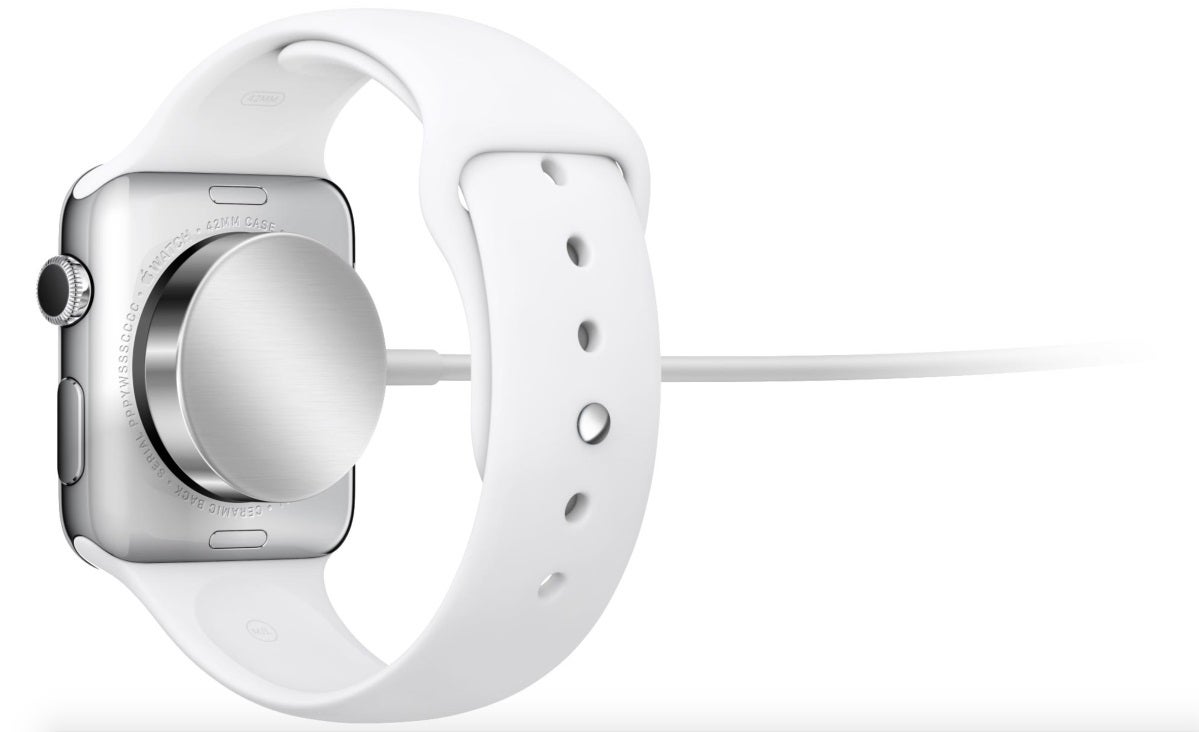 Expectations
The Apple Watch is stuffed with a lot of innovative materials and technology. But beautiful hardware means nothing if there's no compelling software to make users run to the store and hold onto it in the later stages of its life cycle. Hopefully, with over 100,000 apps available at launch, Apple has this base covered already. As for the widely critiqued pricing, here's our two cents - we think Apple priced the whole line-up very smartly. The basic Apple Watch Sport, which starts at $350 for the 38mm version, is an affordable smartwatch of high build and software quality. It's the one that will sell the most, and it's a no compromise experience - well, okay, the strap with the funny name does look a bit cheesy, but that's a minor gripe. The regular Apple Watch is an enthusiast model for users who love their Apple gadgets and won't mind paying a premium for higher quality materials. And the lavish Apple Watch Edition is for the celebrities who love showing off - and by the way, $10 000 is actually very little to ask for from the truly wealthy types. Kanye and Kim will probably buy one each.You don't have to. Remember, the Apple Watch starts at $350, not at $10k. And for $350, it looks like you're getting an excellent smartwatch to pair with your iPhone!