Apple SVP Schiller says smart speakers can be improved with screens
27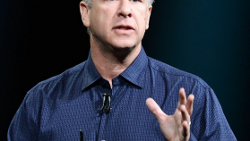 By now, almost everyone knows what the Amazon Echo is. The device, which combines a speaker with an AI virtual personal assistant, is currently one of the fastest growing innovations in tech. Google has the similar Google Home device, and
the Harman Kardon Invoke is coming later this year
. The latter will include a premium Harman Kardon speaker combined with Microsoft's virtual assistant Cortana.
Last week, we passed along two interesting rumors related to smart speakers. One,
Amazon's next generation Echo product is apparently going to include a screen
. This speculation started late last month and continued a few days ago with an image
that claims to show us what this new Echo will look like
. The second rumor states that
Apple will be introducing its own smart speaker, possibly as soon as next month at WWDC
. Apple's version of the product could include speakers from Beats, and would feature Siri. And based on a published interview with Apple's SVP for worldwide marketing, Phil Schiller, we would expect to see an attached screen.
Schiller didn't specifically mention the Amazon or Google devices since he was taught "that if you don't have something nice to say, say nothing at all." But Schiller did say that while there are times when a screen isn't necessary, certain situations require the use of one. So if the rumors are true and Apple does introduce its own smart speaker next month, expect it to come with a screen.
"So there's many moments where a voice assistant is really beneficial, but that doesn't mean you'd never want a screen. So the idea of not having a screen, I don't think suits many situations. For example if I'm looking for directions and I'm using Maps, Siri can tell me those directions by voice and that's really convenient but it's even better if I can see that map, and I can see what turns are coming up, and I can see where there is congestion, I understand better my route, and what I'm going to do."-Phil Schiller, SVP of Worldwide Marketing, Apple
source:
Gadgets
via
SlashGear